Return to Headlines
CMSD, MetroHealth officially open mobile health clinic at Lincoln West (video)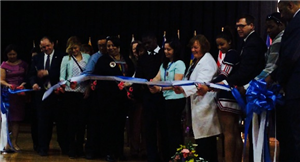 CMSD NEWS BUREAU
4/24/2014
Considerable fanfare surrounded the opening of the new CMSD-MetroHealth clinic at Lincoln-West High School on Thursday morning.
It i
ncluded an ROTC honor guard leading the crowd in the Pledge of Allegiance, a traditional Chinese dragon dance that ended in the dragon "eating" a member of the audience, the "Miss Puerto Rico Image" beauty pageant contestants leading tours of the mobile clinic, school baseball and softball teams in uniform and a host of students and staff from the schools and the hospital system all on hand to celebrate the opening of the second CMSD-MetroHealth clinic this school year.
The hope now is that the clinic itself will quietly get as much attention from teen-age students in need of health care.
"Healthy students are educated scholars," District Chief Executive Officer Eric Gordon said just prior to a ribbon cutting to officially open the health center, which has been treating students for about a month.
"This partnership has raised the bar for the kinds of services that can be provided to schools, services that are comprehensive in their nature, coordinated with the schools and outcome and quality based."
Gordon cited MetroHealth's "bold vision" in taking the lead in placing the clinics where the students are and said the effects will continue beyond their daily care.
"This will help our youth make safe, healthy and responsible decisions about their current life and their future," he said. "It will help them for decades to come."
Ward 14 City Councilman Brian Cummins. agreed: "There's nothing like having a clinic right here at your doorstep in your school," he said. "Our youth having health services right here says a lot about where we are as a community, and it will have an impact on their families as well."
MetroHealth also is launching a pilot mobile clinic at the West 30th Street school. The mobile unit, owned by the Cleveland Department of Health, will be parked next to the school and open from 8 a.m. to 12 p.m. on Thursdays, though it may open for a second weekday by next school year.
The project is the second in a CMSD school, following
the November 2013 opening of a clinic at Mound STEM K-8 School in Slavic Village
. It is being paid for by a $125,000 grant from the George Gund Foundation. (Watch a CMSD News Bureau video and slideshow from the Mound clinic opening
here.
)
"It's important to make access to quality health care as easy as possible for teens to help them make the best, most responsible decisions possible about their health, especially their reproductive health" said Marcia Egbert, senior program officer at the George Gund Foundation. "We hope the Lincoln-West clinic model quickly expands across the city."
Dr. Christine Alexander, interim chair of family medicine at MetroHealth and medical director of the School-based Health Program, said the hospital system hopes to open as many as 22 clinics in or close to CMSD schools.
She said the Lincoln-West clinic will serve a high school population that needs good health care.
"This is the age where kids are trying to exert their independence, but they don't have all the tools they need to act responsibly about it," Alexander said. "Having health care available right at school enables them to recognize their own health needs at an early age and establish good habits of seeking medical care."
The MetroHealth news release also said that "with parent/guardian consent, primary and preventive health care, including routine checkups and immunizations, will be available, as well as help with management of chronic diseases such as asthma and diabetes.
"In accordance with standard medical practice, students may receive care for sexual or mental health issues without prior consent. Students will have access to sexual health testing, treatments and oral contraception."