Return to Headlines
CMSD students argue their case at annual Mock Trial competition (video)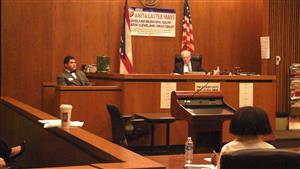 CMSD NEWS BUREAU
5/5/2014
The 2014 CMSD Mock Trial teams took their cases to court Friday, arguing the fictitious account of a high school hazing turned deadly.
And while neither the crime nor the court case was real, you couldn't tell that from the way the student participants went about their business at the Cuyahoga County Justice Center.
More than 400 students from more than a dozen
District schools played their roles with passion and precision -- from prosecutor to defense attorney, to defendant and even expert witnesses.
The winners were announced Monday, and school officials said the competition has been extended for students to vie for "Best Essay," said Lavora "Gayle" Gadison, a social studies content expert for the District who coordinated the competition.
Summer internships will be awarded to the outstanding attorney for the defense, witness, attorney for the prosecution, and essay, Gadison said.
A trio of teams from Cleveland Early College High School at the John Hay Campus performed particularly well, winning the top three team positions and taking home numerous individual awards. Early College Team A won the overall title, followed by Team C and Team B from the same school.
Other awards for Early College students included "Best Overall Witness" for the entire competition for Jordan Davis, who also won a scholarship sponsored by Cleveland Municipal Court.
Lydia Johnson and Sierra Lipscomb were each named best attorney in their morning and afternoon sessions.
Prosecutor Johnson (see video, at right) and witness Adan Martinez were both praised following the morning session by Cuyahoga County Domestic Relations Magistrate Lawrence Loeb.
The magistrate presided over the fictitious case against a "Cleveland High School" student group leader charged in the hazing of a fellow classmate that resulted in the death of that new pledge to the group.
"Miss Johnson, you were well prepared and clear in your argument," he said as he addressed all of the students in a post-trial critique from the judge and two volunteer attorneys in the jury box. "You
looked up at me as you spoke, you were poised and you did a wonderful job."
Students from Early College who were
named best attorney in their case were
Klarissa Zeno and
Anna Marshall. Other winners for Best Witness were
Natalie Perry,
Adan Martinez,
Tamia Bell and
Elijah Smith.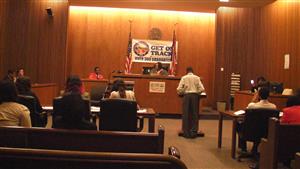 In addition to the three Early College teams, the following school teams won both their morning and their afternoon trials:
Cleveland School of the Arts Team B,
Design Lab and the Cleveland School of Science and Medicine Team D.
The members of the three Early College teams that finished 1-2-3 in the competition are:
Team A: Sierra Lipscomb, Courtney Lockhart, Allycia Smith, Ta'Ron Spencer, Reggie Wilburn, Jeremy Suwarna, Lexus Baker, Joye Bullock, Jordan Davis, Sarra Sherrard, Brooke Tice, Elijah Smith and Jessica Brown.

Team B: Isis Abreu, De'Aira Alvis, Betty Craft, Imani Harris, Celeste Kamasa, Adan Martinez, Ashley Roper, Zachary Weisenseel, Asha Abreu, Chauntel Avery, Tamia Bell, Jalin Brown, Lydia Johnson and Naomi Robinson.
Team C: Natalie Perry, Rosalyn Bizzell, Ryan Cartwright, Caleb Clay, Anna Marshall, Jennifer Nguyen, Klarissa Zeno, Fattah Ali, AnnJanet DeJesus, Rebekah Ferro, Kim Vu, Shalaisha Davis and Reginald Woods.