Return to Headlines
Hip-hop and STEM academics blend at CTAG Summit (video)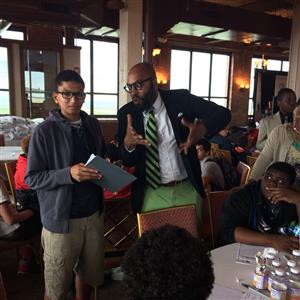 CMSD NEWS BUREAU
5/20/2014
The urgency and creativity of hip-hop lyrics and music collided with the rigor of STEM academics Tuesday morning for more than 100 CMSD students at the
Closing The Achievement Gap
year-ending summit.
Urban education advocate
Christopher Emdin
(with student, at right) and rapper-scientist
Jabari Johnson
led a workshop with students from a half-dozen Cleveland schools with CTAG programs that focused on the intersection between art and academics, particularly science, technology, engineering and math, known collectively as STEM.
CTAG is an proactive intervention program in the District created to address the particular needs of young black men as they enter their 9th grade year, considered crucial for increasing their chances of graduation.
Emdin is an associate professor of math, science and technology at Teachers College, Columbia University, and a Hip-Hop Archive Fellow at the W.E.B DuBois Institute at Harvard University.
He is social critic and science advocate whose "commentary on issues of race, culture, inequality and education" have appeared in publications like the New York Times and Wall Street Journal.
Emdin and Johnson alternated between teaching and pitching the 'HipHopEd concept,' encouraging the young men to throw themselves into the sciences and other academics with the same enthusiasm and mind-set that they might use to write a rap song.
"You don't really have to make a decision between being an academic person, a smart person, a scientist or a mathematician and being a cool person that has got swag and presence and being an MC," Emdin told the students gathered in a second-floor banquet room at Ariel International on East 40th Street.
" 'HipHopEd' says that the same tool you use to get people engaged academically can be the same thing. This is an idea that has now become a worldwide movement."
The immediate result of the presentation and workshop: A long line of seventh- and eighth-grade boys waiting to take their turn at the microphone to rap science-based lyrics to cheering and applause from their peers. Several rapped about scientific concepts, metaphorically relating them to their own lives in school or their neighborhood.
"B
elieve in yourself and don't let yourself down/B
ut that won't happen because gravity keeps you on the ground," rapped one young man, who went only by "James of East Clark Elementary." "All I
got to say is try your best and don't give up until your last breath."
Another student rapped: "I think that I'm sort of hot like a toaster/but I want to sit back and chill/help my mama with payin her bills/why do people drink and poppin pills?/still don't know why my cousin got killed."
T
he hoped-for result of the workshop in the long-term is even more important, said CTAG Executive Director George Golden.
"Students of color, statistically speaking, aren't all that excited about the STEM concept," Golden said. "But some of the same types of intellect associated with creating a hip-hop lyric can be utilized in science, technology, engineering and math just the same as if you are introduced to it properly – and that's what (Emdin) did here today."
Emdin was also scheduled to conduct a symposium for STEM educators in the District on Tuesday night at the banquet center.
Emdin often repeated his philosophy that "the man better than you is embedded in you" and led the students, mostly seventh- and eighth-graders, through a lesson to demonstrate the value of scientific thinking.
"It's really part of our larger effort to help our young men get more excited about education," Golden said.
Golden said CTAG was formed in 2007, primarily in response to statistics showing that black males were not graduating at the same rate as their peers.
"CTAG was put into place to help mentor, advocate for these individuals and help them make that transition into ninth grade to improve the graduation rate," he said.
The program also focuses on reaching out to seventh- and eighth-graders because of studies showing that if a young, black man can get through ninth grade, the first year of high school, their chances of graduating from high school improve dramatically.
Golden said the Tuesday program was also a recruiting tool for CTAG's Summer Bridge, a four-week program that begins in June and aims to help students going into ninth grade get acclimated to the high school environment.
"The workshops, the team building and leadership training is all to help ease that transition and improve their chances for success," he said.
CTAG uses "linkage coordinators," adult black men, to connect with the students personally and help them through that transition.