Return to Headlines
Principals wage marketing campaigns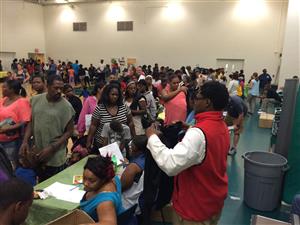 CMSD NEWS BUREAU
8/22/2014
Got a great school? More and more principals across the Cleveland Metropolitan School District are answering "yes" to that question as transformation of the District unfolds under the
The Cleveland Plan.
But those same principals are also more and more responsible for getting the word out about the particulars of their buildings, their programs and the things that set them apart in an increasingly competitive world.
In the weeks and days before, p
rincipals, assistant principals and site coordinators were actively recruiting and wooing prospective students by holding back-to-school fairs and "Meet Your Teacher" nights, as well as other events to reach new families and attract them to their schools. (Early 2014-15 enrollment data has shown an increase in students over last school year, perhaps an indicator that the marketing is working.) Site coordinators, who are paid by the United Way of Cleveland, organize community "wraparound" services for designated schools.
Hard work, ice cream and technology
At H. Barbara Booker on the city's West side, more than 100 people turned out for a simple ice cream social to promote the school to families and to introduce students and their parents or caregivers to the staff and building.
But that many people don't just show up, even for ice cream, by accident, said Maria Sliva of the West Side Community House, the site coordinator for the wraparound school.
"We went door-to-door to hundreds and hundreds of homes to get the word out," she said. "We know that we have to reach people where they are, in whatever way possible."
That means not only by old-fashioned paper fliers, but also by technology. Sliva, new Principal Nick Sheibelhood and the school secretary were trained recently to use an online program to reach school families.
Sheibelhood was among a handful of principals who learned the app, called School Messenger. Nearly two dozen other principals had help in recording their own personal messages to families.
Other schools have been using similar means to serve families of students, both prospective and current.
Mary Jo Cotner, the site coordinator at Robinson G. Jones School, said she made a concerted effort to get the school to offer after-school care and activities for students -- and then used the new services as a marketing tool.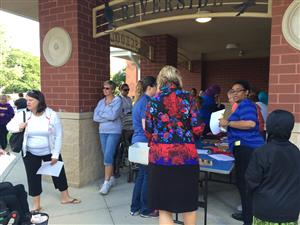 New Riverside Principal Paige Baublitz-Watkins called a parent meeting in the month prior to even starting her job there.
Since then, she has begun creating a school presence on social media channels, beginning with Facebook, to reach out to existing Riverside families.
Others developing new Facebook pages are Orchard STEM School and Facing History New Tech.
Recently joining CMSD schools like Facing History New Tech (@FHNewTech) and Charles Mooney (@MooneyMustangs) in the "Twitterverse" were the Douglas MacArthur Girls' Leadership Academy (@DMACgirls), H. Barbara Booker (@HBBooker) and Walton K-8 School (@WaltonCMSD).
Open houses were common during the spring and summer
at schools such as at Hannah Gibbons STEM.
Robinson G. Jones School held a block party with a church.
The new reality of school marketing
It's never been more apparent to school leaders that there is a new necessity for an urgent marketing strategy and for proven and innovative ways to get the word out to attract new students, especially as competition for those students and the money that follows them intensifies. Under CMSD's new system of student-based budgeting, each school receives funding based on enrollment and individual student needs like special education.
Couple that new reality of education economics with CMSD's purposeful transfer of school control to principals in a district that has been losing student population steadily for more than a decade, and you've got a new marketing imperative.
"We must, absolutely must, start branding ourselves if you're not already doing it," Chief Academic Officer Michelle Pierre-Farid told a roomful of school leaders at the District's Summer Principals Institute at Corporate College East in Warrensville Heights. "Not only do we want to maintain our enrollment, but we want and need to recruit new students, and you've got to find a way to distinguish yourselves from all of the other choices around you."
CMSD had already ramped up its marketing of schools overall, creating a news bureau to tell the CMSD story across all media and social media. Before that, the District revamped its webpage and aggressively began establishing its brand across print platforms.
But the real battle for students is being fought in the trenches, so principals are being trained and encouraged to take on the marketing of their schools in that ever-changing climate of competition.
Pierre-Farid challenged principals during the training session at the summer institute, leading them in exercises that tested their thinking about brands that have strong, quality reputations and those that don't.
"You want a tagline, something you want your customers to think about automatically, the thing that makes you stand out, makes you special," she said. "Think about Lexus, what's their slogan?"
" 'The pursuit of excellence,'" several educators shouted out.
"That's right!" Pierre-Farid replied. "It's not the pursuit of mediocrity or the casual chase after excellence. It is 'The pursuit of excellence,' and everyone knows that phrase and what it means. That's part of what we want you to be thinking about."
The other parts, Pierre-Farid said, are the "brand promise and brand experience," meaning that each school has to deliver on what its principal is "selling" to customers.
"That's why the
HEART training
is also important," she said referring to the District's new customer service initiative, supported by the Cleveland Clinic and its trademarked model "Communicate with Heart." (View the HEART training video
here.
)
"You not only have to effectively message your building, but your staff has to be on board to do the same – and then deliver it," she said. "Remember, if your students love your teachers, those children will talk about them all the time and their parents will, too."
"Word of mouth is a simple marketing tool, but a very effective one."
Marketing directly and indirectly
Orchard STEM Principal Mary Ann Knapp said the competitive reality is acute.
"We're losing kids to the suburbs and to charter schools all the time, even though we're offering a great education," she said. "Which means that we have to do whatever we can to get the word out."
That requires everything from direct mailings (she is working with Councilman Joe Cimperman) to Facebook (the Orchard STEM page is fairly new, but active) to simply "bringing people in individually after you've told them about your school," she said.
"It's a constant thing, talking up your school in the community and encouraging your staff to do the same," said Knapp, a 25-year educator who has been at Orchard for 15 years.
She said the transition from a school of science to a neighborhood school and now back to a STEM school in a district where families can choose virtually any school for their children has made marketing Orchard a challenge.
Heather Grant, until recently the principal at Tremont Montessori, used a direct method to find families and students, reaching out by mail to families of students across the city enrolled in charter schools.
"This was an effort to support
The Cleveland Plan
where we want to bring students back to CMSD and fill seats in effective schools," she said in an e-mail."
"Once the cards were mailed, we started to get between nine and 13 calls per day about students enrolling in the school and tours," she said. "We were consistently hearing as feedback from families things like 'I did not know we had a public Montessori school in the District or I would have had my child here before.' "
Grant said she opened the school for tours and enrolled students during a Saturday morning pancake breakfast fundraiser in April and again on a May night when the school held its student art show.
Julie Beers, principal at the popular Campus International on the Cleveland State University campus, said CMSD principals have to market the qualities of their schools as aggressively as their counterparts in charter schools do.
"It's just the way it is, and it's not all bad," she said. "We are building great schools, and we should be telling everyone about them."