Return to Headlines
Houston Urban League education director calls for more involvement from CMSD families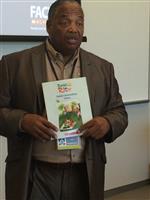 CMSD NEWS BUREAU
8/1/2014
It's not too long after you begin listening to education reform advocate John Robinson preach his message of how "college bound capacity begins at conception," when you might start to hear many of the things already part of the ongoing transformation of education in Cleveland.
"Schools cannot do this alone, they need the whole community involved," he told a small group of educators in the final session of the day at the District's BLUE (Build, Lead, Utilize and Engage) Institute, nearly echoing the "wraparound" philosophy that CEO Eric Gordon and other leaders have championed to help the most academically challenged of CMSD schools.
Then: "Family involvement is the key. We've got to reach the moms and dads to get them involved before the child is even in pre-K," he said, complementing the themes espoused by the District's Family And Community Engagement (FACE) leaders.
Robinson, director of education for Houston's Urban League, oversees Houston's national award winning National Urban League banner program, "Project Ready Post-Secondary College Access Programs."
His message Thursday was part call for nationwide and local urban education reform and
part pitch for the "Read and Rise,"
a literacy program from Scholastic Inc. already in a few dozen CMSD schools, funded by a grant to help improve reading.
He also has a knack for turning a phrase.
"Because our children can't read, they can't succeed," he said. "And if they don't catch up, they won't catch on and the reason is that they don't have a foundation from conception.
"That puts the emphasis on the parents and right now we've got kids coming into pre-kindergarten who don't know their letters, who haven't even learned the 'ABC song.' Can you believe that? The parent is the child's first and most important teacher, but we're missing that."
Robinson went on to talk about the value of parents reading to their children, beginning in the mother's third trimester of pregnancy, and the importance of preparing them for school from right after birth.
"The critical years are the early years and family involvement is critical," he said. "It takes passionate people to do this."
He'll speak again today to 30 or more educators and community partners at the Barbara Byrd Bennett Professional Development Center on Lake Shore Blvd in Bratenahl regarding the importance of school and community collaboration to support literacy development for all students.
Robinson will also conduct parent workshops at the Back to School Fair on Saturday.
Mayor Frank G. Jackson's
eighth annual Youth Summit and the CMSD Back to School Fair
will be held from 9 a.m. to 1 p.m. Saturday at Public Auditorium, 500 Lakeside Ave.
The event, a collaborative effort between the city and the school district, is designed to get families ready for the school year. Parents and students can attend workshops connected to the theme of "Conduct, Courage and Character."
The event also will showcase community activities, events and organizations that support families.
Registration and breakfast will begin at 8 a.m. The event will end with lunch and distribution of school supplies.
Participants must attend two workshops to receive school supplies. Quantities of meals and supplies are limited.
Free parking will be available in the Willard Garage.