Return to Headlines
Police station off list of Campus International sites
CMSD NEWS BUREAU
8/7/2014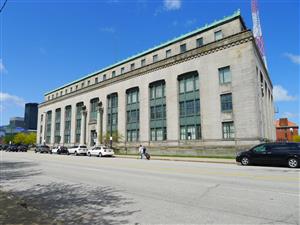 Photo by Cleveland.com
CMSD has removed an old police station near Cleveland State University from consideration as a possible new site for the acclaimed Campus International School but will continue working with CSU, parents and other supporters to explore remaining options.
The District and university are partners in Campus International, which will offer kindergarten through sixth grade this school year and is to expand a grade per year through high school. The school, which opened in 2010 and teaches a global curriculum,
recently earned accreditation
from the International Baccalaureate in Geneva, Switzerland.
Campus International will welcome nearly 500 students this month, with more children on waiting lists in each grade. To accommodate growth, fifth-and sixth-graders have been moved from CSU's Cole Center to converted Methodist church space leased at East 30th Street and Euclid Avenue, but the solution is only temporary.
CMSD and Cleveland State, along with school parents and other supporters have studied three options: build a new K-8 school on university-owned land and use the Cole Center as a high school, construct both a new K-8 and high school on the campus, or renovate the police station and build an adjacent high school.
Representatives of the groups decided against the renovation Wednesday after CMSD Chief Executive Officer Eric Gordon, Chief Operating Officer Patrick Zohn and consultants outlined the expense. They also discussed complications that they said would leave nearly 20,000 square feet -- a fifth of the six-story building -- unusable.
A preliminary report from the Architectural Vision Group estimated that the cost of renovation would reach at least $24 million, or about $5 million more than the price of a new K-8. The estimate includes the cost of expansion with a gymnasium, cafeteria and other essential space, as well as $750,000 for an environmental study that could turn up hazards requiring additional work.
The Ohio Facilities Construction Commission has been working with CMSD for more than a decade to build new schools, paying slightly more than $2 for every $1 supplied by the District from a bond issue that voters approved in 2001. OFCC has a policy against funding renovation that exceeds two-thirds the cost of new construction.
Even if the commission waived the rule, the state would cap its contribution at the cost of a new building. Gordon said he was reluctant to spend the extra $5 million, which, combined with state matching funds, could pay to replace another K-8 elsewhere in the District.
Parents and others who envisioned a new use for a building listed on the National Register of Historic Places were disappointed but concurred in the decision.
City police are to leave the station when a new Third District headquarters opens in early 2015. A District consultant, Mark Horton of Weston Inc., told renovation supporters that he did not expect the building to remain vacant for long, predicting strong demand for a site near the university and a resurgent downtown.
"That building is going to be on everyone's radar," he said.
Campus International Principal Julie Beers said the school could comfortably accommodate only up to seventh grade at the former church space, now referred as the South Campus.
She is eager to reach a permanent solution before the school expands to the eighth grade in August 2016. With construction expected to last up to 18 months, timing is critical.
"It's urgent," she said. "We just don't have room."