Return to Headlines
Newest Investment Schools get to work (video)
CMSD NEWS BUREAU
8/18/2014
Ten more CMSD schools began life Monday as "Investment Schools" that will be targeted for intensive intervention to improve the climate, increase family and community participation and raise achievement.
Focusing attention and resources on the District's lowest performing schools is one of many strategies in
The Cleveland Plan,
CMSD's state-approved blueprint for reform. The District now has
23 Investment Schools,
with more to be designated next spring.
New additions include East Tech and Glenville high schools and eight elementary buildings: Adlai Stevenson, Almira, Bolton, Fullerton, George Washington Carver STEM, Marion-Sterling, Michael R. White and Patrick Henry. The schools were among 14 that returned from summer break Monday, completing CMSD's phase-in of the 2014-15 academic year.
(See the 10 schools' corrective action plans here.)
Staff at the new Investment Schools had to reapply for their jobs and sign letters agreeing to certain working conditions.
At Marion-Sterling, 16 of 22 teachers are new to the building at East 30th Street and Central Avenue, including nine who were hired from outside the District.
"To change our school, we have to change the culture," said Principal Adrianna Chestnut, a James Ford Rhodes High graduate who spent the last two years at a charter school in Toledo. "We have a team of people who are excited, they're enthusiastic, and they're ready to go."
Five of Marion-Sterling's new teachers come via
Teach for America
, which recruits candidates from a variety of professions. The five are new to teaching but have a fundamental quality that Chestnut values.
"I can't help a teacher who doesn't love children, I can't help a teacher who doesn't believe in the children we serve," the principal said. "That's what I was looking for."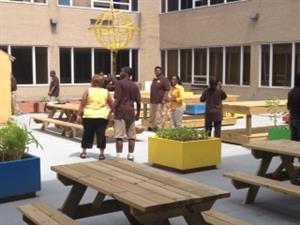 East Tech has deviated slightly from the school dress code to incorporate the school colors. Students received a brown polo shirt with the school crest on Monday and will get a gold polo Tuesday.
Temujin Taylor, one of two co-directors sharing principals' duties, said he is trying to restore pride in the home of fabled Olympian Jesse Owens and other athletic greats.
Addressing juniors at an assembly on discipline Monday, Taylor praised gains students have made in test scores but prodded them to raise low attendance.
"This is about you; this is not about us," he said. "We can't move forward unless you are here every day."
The Investment School portfolio now includes all of the schools in what is called the
Cleveland Central Promise Neighborhood
: Alfred A. Benesch, George Washington Carver, Marion-Sterling and East Tech.
The Sisters of Charity Foundation of Cleveland has targeted the area, which stretches from East 22nd Street to East 55th Street and from Euclid Avenue to Woodland Avenue, for special assistance and is working with CMSD and other partners to coordinate services that guide children from the cradle to college and careers.
The neighborhood's challenges are measured in stark statistics: Poverty is widespread. Half of children are chronically absent from school and 40 percent change addresses during the school year. East Tech's graduation rate is climbing again after sinking to 42 percent.
CMSD, the Sisters of Charity Foundation and others are studying redesign of the schools in the neighborhood. Among the options is consolidating elementary, middle and high school grades in specific buildings, a proposal that is based on public feedback. More input will be sought before changes are made.
Former Marion-Sterling Principal Gerard Leslie now serves as CMSD's liaison to the Central Promise Neighborhood. He said such a grade configuration would help concentrate resources by grade level while also uniting the community.
The latest Investment Schools may be new to turnaround work, but their network leader, Warren Morgan, certainly is not.
Morgan, who recently joined CMSD, has helped improved struggling schools he led as a principal in the public schools of Chicago, his hometown. He is confident that better days are possible for CMSD's Phase 2 Investment Schools, though he stresses that the challenges are significant.
Morgan promotes a three-pronged approach: Figure out where each school's work will focus, build strategy around student data and strengthen "organizational and human capacity" to do the job.
Among the tactics he said could be employed are incentives to spur attendance, teaching that is culturally relevant to students, parent education and project-based instruction that engages students more than, say, lecturing. But, above all, he preaches attitude.
"I want to see instruction taking place, I want to see clean hallways, I want to see a welcoming environment," he said. "I think it can seem hopeless because people are looking at all of the challenges. It starts with the mindset."