Return to Headlines
Campus, Riverside open at capacity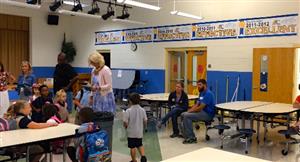 CMSD NEWS BUREAU
8/18/2014
Opening Day 4.0 in the Cleveland Metropolitan School District featured a packed house at Riverside School (see photo, right) on the city's West Side and Campus International School downtown (photo below).
The two elementary schools are among CMSD's strongest performers. The schools opened Monday along with
the 10 Phase II Investment Schools, Alfred A. Benesch School and Bard High School Early College Cleveland.
The three previous openings of the school year were:
The District's four year-round high schools were the first to begin, on July 28.

Two high schools at the John Hay Campus opened Aug. 11

Most of CMSD's 100 schools got under way Aug. 13
Chief Executive Officer Eric Gordon said the earlier start to school will provide more instructional time before state assessments begin in October and create a more natural flow to the school year, for example, by ending the second grading period at the start of winter break.
This is the second full year that CMSD will operate under
The Cleveland Plan
, a sweeping state-approved blueprint for reform.
New Riverside Principal Paige Baublitz-Watkins said after she was hired at mid-summer, she spent the rest of her time having coffee, tea and barbecue with the families of students and prospective students.
That hands-on approach may have played a part in a first day crush that caused the school to exceed its projected enrollment of 480 by more than 80 students.
"We're at capacity, that's for sure," she said. "People know Riverside is an exceptional school, so the word is out."
Parents and children waited patiently in lines that stretched outside the building Monday morning, many having hiked from neighboring streets in the city's West Park area.
"The parents were great, especially since we changed the protocols to keep them from parking on the street right in front of the school, which we want to use for drop-offs and pickup only," Baublitz-Watkins said. "This is a great community of motivated parents."
She said perhaps the biggest change this year involves student participation in Riverside's communications and decision-making.
"I really believe in a more equalized community, and for the students that means a newspaper team, students doing the morning announcements and even applying for jobs as ambassadors in the community or to mentor younger students," she said. "We'll have a new student council, for example, that will have a real voice with our administrative team."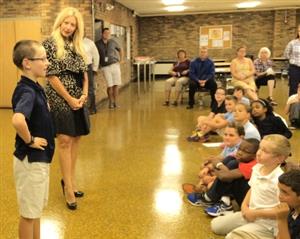 At Campus International, Principal Julie Beers and staff welcomed students at two sites on the Cleveland State University campus.
"It was hard for me to be in two places at once, but we're also proud that we're growing and we love our new space, because it's also our old space," Beers said just prior to a mid-morning welcome session with fifth- and sixth-graders in renovated former church space at E. 30th Street and Euclid Avenue.
The church building housed the school at its inception in 2010.
Now first- through fourth-graders study at the CSU Cole Center at East 30th and Chester Avenue, known as the North Campus.
Beers and her staff assured inquisitive fifth- and sixth-graders that they would still be connected to their younger counterparts. The principal and staff also reviewed what the
International Baccalaureate
refers to as "learner profiles" that guide behavior and the general tone of the school.
The school, which was recently accredited as the first International Baccalaureate school in Cleveland,
is at capacity of about 490 students. Campus International filled its seats by
lottery and has a waiting list.
Campus International will add a grade per year until it includes high school. CMSD, Cleveland State and school supporters are studying ways to accommodate future growth.