Return to Headlines
Many cultures celebrated at schools (video)
CMSD NEWS BUREAU
11/24/2014


The varied multicultural flavors of CMSD rivaled an Olympic Village or the United Nations last week at Lincoln-West High School and Walton K-8 School as part of
International Education Week
.
At Lincoln-West, an enthusiastic auditorium full of students, staff and teachers cheered, clapped, stomped and danced to more than a dozen on-stage performances Thursday morning.
The performances ranged from explosive Latin fusion music to an African fashion show (featuring garments and student-models from Burundi, Somalia, Kenya, Senegal, Democratic Republic of the Congo, Nigeria and South Africa) to Nepali dancers to a Vietnamese lion dance.
The school Junior ROTC opened the ceremonies with the U.S. national anthem, followed by a parade of flags representing more than two dozen countries. Each nation was cheered, but none as loudly as Puerto Rico, the homeland for the largest proportion of students and families. International Studies Coordinator Robin Guerrero, who again this year is taking a team of students to the Dominican Republic, hosted the show.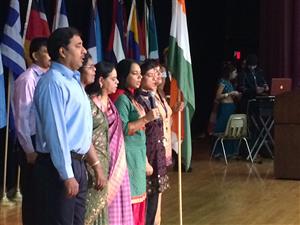 "We are so proud of all of our students and so proud of our many nationalities," said Lincoln-West Principal Irene Javier. "This week is our chance to show that diversity to everyone."
Lincoln-West has students from 41 different nationalities, speaking more than two dozen languages.
First-generation Americans and immigrants represented at Lincoln-West include Puerto Rican, Russian, Ukrainian, Arabic, Mexican, Dominican, Chinese, Albanian, Nepali, Arabic, Urdu, Vietnamese, Laotian/Thai, African, Polish and Croatian, according to records, Javier said.
Lincoln-West is part of the
International Studies School Network (ISSN)
, and Walton, traditionally a feeder school for Lincoln-West, is in its first year as a member. On Friday, Walton students presented a series of programs and displays to parents and staff.
Each classroom at Walton represented a different country, and students through the course of the week studied language, culture, food and the arts and then at the end of the week presented what they had learned.
The International Studies School Network has partnered with school districts since 2003 to "to develop college-ready, globally competent high school graduates." Its network currently includes 34 schools in urban and rural communities across the United States; 85 percent of all students represented are minorities, while 74 percent are from low-income families, according to its website.