Return to Headlines
Glenville alum, Packers' linebacker inspires students (video)
CMSD NEWS BUREAU
1/29/2015
The NFL didn't know much about CMSD graduate
Jayrone Elliot
going into the football season that culminates this weekend with Super Bowl XLIX.
A talented high school athlete at Glenville High (home to a football team that compiled a record of 36-4 in his four years), he graduated from Ginn Academy (Ginn doesn't offer football) and went on to perform well at the University of Toledo (1st Team All-Mid-American Conference, nine sacks and 14 tackles for a loss as a senior). But it was not enough to be drafted by an NFL team.
Instead, the 6-foot-3, 240-pound Elliot he took a small signing bonus to try out with the Green Bay Packers as an undrafted free agent, one among nine linebackers on a team packed with talent. His odds of just making the team weren't good.
Then came a stunning four-play series in mid-August preseason game against the St. Louis Rams: Elliot
sacked Rams quarterback Austin Davis on three of the four plays,
causing a fumble on the final one with a burst of strength and speed that overwhelmed the offensive lineman.
Suddenly
everyone in the rabid Packer universe knew about the kid from Cleveland.
Elliot went on to play a solid rookie season with the Packers, who were just knocked out of the playoffs in the NFC Championship game by the defending champion Seattle Seahawks.
That kid came back to his first high school Wednesday as a young man with a message for his fellow Tarblooders: Stay in school, go to class, stay out of trouble, make a plan and work that plan.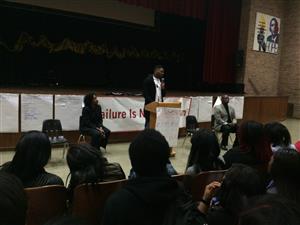 "I might have only five or six years to be an NFL player," he said. "So you've got to go after your Plan A, but you also have to work a Plan B, too."
For Elliot, that means graduating from Toledo this spring and making plans for grad school, too.
"It's a blessing to be here today and it's a blessing to be able to play football," he said after he spoke to the students for about 45 minutes.
Glenville Principal Jackie Bell introduced Elliot as a "member of the family." Sam Scavella, principal for the ninth- 10th-graders, urged the students to pay attention to the academic message.
Elliot's academic message included an admission: "I wish I had it to do over again," he said.
"I didn't realize how important school was then." He told the students assembled in the school auditorium that he was perilously close to not graduating from high school, first because of trouble with attendance, then passing the Ohio Graduation Tests.
About a half-dozen students asked questions of the Packers' linebacker, who told one student that "the biggest difference between high school and college was accountability."
He also was quick to reply to a young man who asked "Can you tackle Marshawn Lynch?" referring to the Seahawks powerful running back.
"I can tackle anyone I want," Elliot said with a big smile.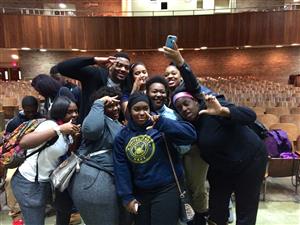 Afterward, students and teachers gathered in clusters for autographs and photos with the star player
Current Glenville football player Travis Jarvis, a quarterback and safety who wants to play in college and the NFL, said he could relate to Elliot's academic battles and was inspired by his message.
"I'm dealing with some of that, too," he said. "He told us today that anything is possible, though, and that you have to keep working at it."
Fellow senior Rashawn McCants, who injured his back last season, now has his sights on coaching and plans to go to Cuyahoga Community College next year to begin studying sports sociology.
"Football is my passion, and I want to be around it all the time," he said. "But I've got to get my education to do that."
Two senior girls, Dana Witcher and Antaya Ponder, said Elliot's message wasn't just for the boys.
"We play sports, too," said Witcher, who wants to study music theory and perform music, possibly at Kent State University. "And his message was more about academics, anyway. That applies to all of us, everybody in this room."