Return to Headlines
CTAG students take on issues facing urban youth (video)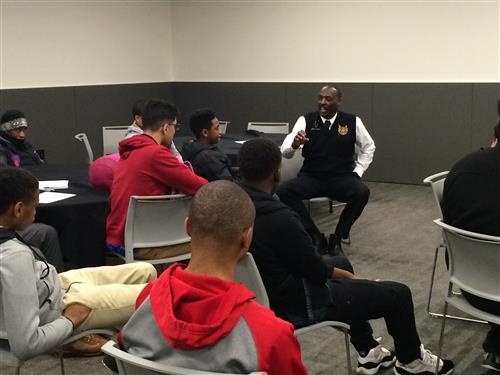 CMSD NEWS BUREAU
2/25/2015
CTAG doesn't mess around.
Even in the light-and-breezy, sun-dappled atrium and fancy ballrooms of the city's new Convention Center, the CMSD leaders of the Closing The Achievement Gap, or CTAG, program are serious about their work. That's because they know they are dealing with heavy, possibly life-changing matters facing the students they serve, said CTAG Diversity Director George Golden.
"These young men are our future, right here," Golden said as nearly 200 young men, mostly black and Hispanic, listened to an address late Wednesday morning from author and workshop leader
Shaka Senghor
. The motivational speaker served nearly two decades in prison but now runs his own start-up company and teaches at the University of Michigan, among other successes.
CTAG is a federally funded intervention program that focuses on helping young men of color, particularly heading into and during the critical freshman year. The program at six different high schools aims to keep the students in school and on track for graduation and also identifies and works with 8th graders as they are preparing for high school.
"We're serious about it because we know it's important and because of the risks these young men face every day," Golden said.
From prisoner to author
Senghor's message clearly hit many of the students hard as they sat and listened intently to his story: He told them how he was sentenced to prison for second-degree murder when he was only 19. He ended up serving 19 years in prison, including more than seven in solitary confinement, but told the teens that he eventually came to his senses and came up with a plan in the five years prior to his release, even writing one of his books before getting paroled.
"You know the difference between education and learning?" he asked the group. "Education is what others do for you; learning is what you do for yourself. Education is good, of course, but if you're going to make change, you've got to want to learn what it is you need."
He told the CTAG teens that graduation was the first step away from anything holding them back, but that they also need to try to outwork even him.
"I get up at 4 a.m., and I'm going hard before I have to come here at 8 a.m. and keep going," he said. "You see me and you think I do a lot of dope stuff -- meeting authors and politicians and NFL players -- and that's true, but you've got to do the work."
Senghor teaches workshops as a part The Atonement Project, which he said he created to "help victims and violent offenders heal through the power of the arts."
In 2012, he was awarded the Black Male Engagement Leadership Award and now serves as the national spokesman for Black Male Engagement (BMe), a network of Black men engaged in their community.
In 2013, he was named an MIT Media Lab Director's Fellow and last year was named a W.K. Kellogg Community Leadership Network Fellow, allowing him to teach courses at Michigan.
In March 2014, he shared his story in a TED Talk (see video, right).
The video had received more than 1.3 million views at last count, he said.
Some of the wording in a message on his website, ShakaSenghor.com, could have been taken right from CMSD's mission: "I believe that transformation is possible no matter what we've done or how much we've fallen short," he writes.
He was introduced Wednesday by District CEO Eric Gordon, who had the students break into groups with students from other high schools and discussion groups from the morning session to prep themselves for questions for Senghor.
Although many among the CTAG students were engaged, some weren't – and Senghor called them to be accountable.
"When I look at y'all, I am y'all," he said. "I see y'all swagger and laughing when some of these brothers and mentors are leading you, trying to help you. Let me tell you: 19 years in prison ain't a rap video. It ain't over in three minutes."
He said he shot four people in a period of 14 months. The last one died, leading to the second-degree murder charge.
"Most of what you think is strength right now is weakness, emotional and mental weakness," he said. "Because when I did what I did, I was caving in to the pressure and not thinking long-term."
Students speak up
Senghor and the CTAG leaders used different chapters from Senghor's book "Live In Peace: A Youth Guide to Turning Hurt into Hope," as a catalyst for each of four small-group discussion sessions prior to his talk. The topics were:
the causes and consequences of teenage addiction and violence
victimization and accountability
the "Prison Industrial Complex" and the impact of incarceration
and "Transforming self, transforming others."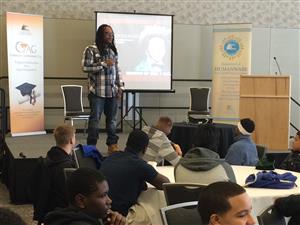 "Live In Peace," a collection of essays and poems, "addresses issues of abuse, abandonment, addiction, consequences and the power of personal transformation," according to promotional material. Each of the students received a copy.
John Adams High senior Orlando Hopson spoke out passionately to other students during one of the breakout sessions,
Hopson, the first CMSD student to earn an overseas Rotary exchange
(to France) in at least 20 years last summer, challenged his peers to rethink their allegiance to their 'hood' because it can so often lead to violence against other young, black men from other streets and neighborhoods for no substantive reason.
"Listen, death is for sure for all of us eventually," he said. "But we can choose to make the right decisions that give us a better chance at life. I'm not saying bad things don't happen to good people, too, but why bring it on yourself?
"At the end of the day, we all have to be here for each other."
Hopson made his comments in the group moderated by a community leader Steve Sims and Earnest Harris, a six-year CTAG employee and "linkage coordinator" at Rhodes High (see photo, at top). Linkage coordinators are the adult men who work with the students, predominantly eighth-graders and freshman, at a half-dozen CMSD schools to help them stay on track.
Down the hall in the session focused on teenage addiction and unsafe sexual practices, it took the group about half of its 45-minute session to open up enough to talk freely. There was no holding them back once they did, however. Half the group raised their hands when asked by the moderators whether they were sexually active, but only half as many said they took birth-control precautions.
A separate discussion touched on the reality of both the gang culture and simply protecting yourself from other teens from nearby neighborhoods.
"Sometimes, people don't choose the gang -- the gang chooses them," said one young man. "Then, it's like your life is on the line and what are you supposed to do?"
Moderator Anthony Scott, an attorney with the city of Cleveland, said there aren't easy answers to many of the teens' questions, but there are right answers.
"I can't give you the 'Cliff Notes' version of an easy answer," he told the student. "We all know people who don't make it out, but you don't have to be one of them. You don't have to make the reckless decisions I made as a young man. You can be your own man and you've got a lot of help right here."
Harris said after the sessions that the students could have used twice as much time for talking.
"It takes them a while, but they need to talk about these things, they need to see how the other guys are just as scared of some of the things they are dealing with," he said. "And they need other young men just like them to tell them, to show them, that they can get out of this, they can make a change. That starts by staying in school, but also by making change in their neighborhood by not falling into some of the things that can hurt them and others."
Senghor implored the young men to rise above their own circumstances.
"Everyone in here has the capacity to do higher-level thinking, to walk your own path," he said. "But it's going to take real courage."