Return to Headlines
Lincoln-West students, teacher partner with MetroHealth for health fair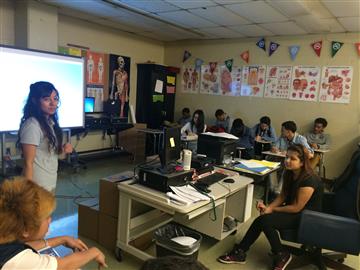 CMSD NEWS BUREAU
3/27/2015
Lincoln-West High students who surveyed hundreds of people about their personal health practices and concerns are using that data to help plan an April 25 community health fair with partner MetroHealth Medical Center.
But their work won't end there: The nearby hospital plans to also use the results of those surveys to better understand and serve CMSD students and the community as it conducts its own evaluation of various Cleveland neighborhoods.
"We want to hear from the students and the community about what the needs are," said MetroHealth nurse Eduardo Muñoz, who is helping to coordinate the study. He said the study focuses on the fact that health declines dramatically in specific urban areas.
"MetroHealth doesn't want to come in and say, 'Here's what you need' or 'Here's what you have to do,' but rather hear from the community about what will work," he said. "We know that where you live matters and that options matter, and the survey work of these students is illustrating that."
MetroHealth and Lincoln-West have been nurturing an increasingly close relationship over the last few years. The hospital brought one of its first health clinics to the high school, has sponsored impaired-driving simulations for students and a runs mentorship program at the school for students interested in working in the health field.
On Thursday, students in Mark Julius' global health issues class presented their findings to their teacher, their peers, Cleveland State University students from the
Northeast Ohio Medical University
, Muñoz and MetroHealth
Community Health Coordinator
Erica Chambers.
While their findings were unscientific -- 25-person surveys in three different age groups were taken by more than a dozen teams – school and hospital officials said they would be valuable as an education tool for students and as a window into the community for the hospital.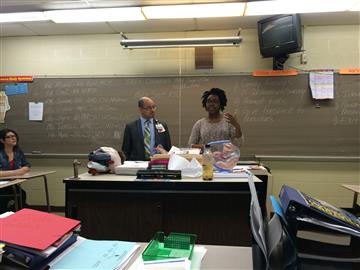 Surveys show poor health choices
The student teams presented their findings throughout the day Thursday as their classmates, teacher and the visitors evaluated each one for clarity and completeness. Some were slick PowerPoint productions with charts and graphics, while others were less developed text reports projected onto the screen.
While there was no summary of the surveys, the unofficial findings illustrated the risky behavior of teens (texting and driving, unprotected sex, thoughts of suicide) as well as poor eating and exercise habits in the community among all age groups (frequent fast-food, little exercise.)
Specifically, some of the surveys showed in the 14-25 age group:
• About 40 percent of respondents smoke
• More than two-thirds eat fast food two to four times a week, but slightly less than half said they exercise regularly
• Nearly two-thirds said they know of someone infected with a sexually transmitted disease, but one in five still said having more than one sexual partner was acceptable.
Other results showed that a large majority of older people (65 and older) who still smoke began at an early age, many by 15. Another showed that the majority of people 65 or older (22 of 25) could not name 15 different vegetables.
One group of students concluded that many poor health habits that continue throughout life begin in the teen years.
"That was a really important message, I think," Julius said between class periods as a group of students uploaded their report onto a computer. "They're seeing the value of something they can do now to affect health for a lifetime."
Julius said the surveys were borne out of a recent unit he taught on the leading causes of death, both worldwide and locally. Students researched the leading ways people in Cleveland die, conducted surveys with questions aimed at revealing the possible causes and prepared the presentations shown Thursday.
Several students said the class assignment grew to take on more meaning for them as they prepared their presentations.
"Teens aren't really going to be engaged if they are just hearing this from adults," said student Ghaida Hmeidan. "But if we feel like we have a voice, that we can actually change the way things are, then we might do something about it."
Student Noe Concepcion agreed: "When we see peers talking about our own problems, it gives us hope that something can be done," he said.

Health Fair set for April 25
That's one of the reasons that this year's health fair could be a success, Julius said. "The student participation could make a big difference, especially if they get their families and friends to come out on a Saturday," he said.
The April 25 health fair at the school also promises to be a fun event , said Michael Cook of Esperanza, the community wraparound coordinator at Lincoln-West. His job is to organize community services that can help students and families overcome obstacles to achievement in school.
He said he hopes to have everything from dance classes to Zumba classes to a "bouncy house" on site in addition to the usual services like health screenings provided by MetroHealth. Representatives from the Cleveland police and fire departments are also expected to be on hand to give out information and answer questions.
Julius said he initially balked at helping with the fair this year because previous events "have turned out to be more like career fairs."
"And that's fine, but I told the administration that if we were going to do a real health fair this year, that I wanted the kids involved," he said. "Then, with MetroHealth as a partner, we can really have an impact on the teens and their families."
Each of the student groups that made presentations Thursday also offered suggestions for the health fair based on their initial research and the results of their 25-person surveys.
One group suggested handing out healthy snacks as well as holding an orientation or giving out fliers on everything from HIV and safe sexual practices to healthy eating and exercise. Another suggested "drunk goggles," the device used to show the wearer how vision becomes compromised under the influence of alchohol, or an impaired-driving simulator.
MetroHealth's Muñoz said he believes there could be "a groundswell among students" regarding health practices, one that could positively affect the entire community.