Return to Headlines
CEO, panel plot "STEMM" pipeline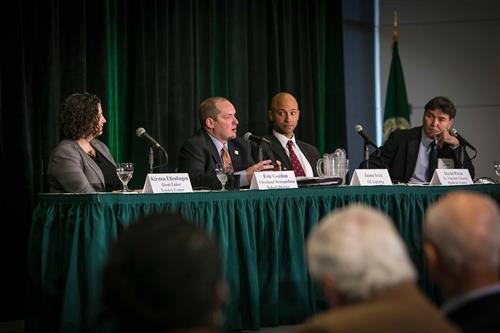 CMSD NEWS BUREAU
4/1/2017
All students should develop STEM skills even if they plan to enter fields other than science, technology, engineering and mathematics, CMSD Chief Executive Officer Eric Gordon said during a panel discussion Wednesday at Cleveland State University.
The panel explored "Building a STEMM Pipeline from School to the Workplace." (The extra M stands for medicine.) He was joined by Kirsten Ellenbogen, president and CEO of the Great Lakes Science Center; Jamie Irick, vice president and general manager of North America Professional Solutions, GE Lighting; and David Perse, president and CEO of St. Vincent Charity Medical Center.
Gordon said the nation needs to prepare itself for a generation that will be immersed in technology that advances daily. He said narrowly training masses of students in STEM will flood that part of the job market, but he added that all students should become "STEM-like thinkers," with problem solving, collaboration, communication and other abilities critical across the modern economy.
"Then we will be able to ensure that our young people can fill a large number of jobs," he said.
The CEO called on the community to help by providing relevant field experiences to students as young as preschool, deepening their understanding and giving them context. He said partners have to meet kids "where they are with things they care about."
He didn't have to look far to find some who have stepped up.
The science center, GE and Cleveland State University (with support from KeyBank) all provide classrooms for CMSD's groundbreaking MC²STEM High School. The science museum center also offers a science curriculum and teacher training.
MC²STEM opened in 2008 and is billed as the only high school in the country embedded in the campus of a Fortune 500 company. GE employees provide one-on-one mentoring and tutoring for the 10th-graders who attend classes at the company's Nela Park campus in East Cleveland, and the sophomores work on a capstone project that takes an idea from concept to commercial development.
The company also announced recently that it would contribute $500,000 annually for 10 years to pay for
five full scholarships to CSU
. Preference goes to graduates of MC²STEM and CMSD graduates who pursue STEM majors.
Irick said GE jumped at the chance to be part of a school that he said "made history."
Both he and Ellenbogen spoke of the need to steer more minority and female students into STEM fields.
"If we don't have this diversity of thought … we're selling ourselves short as a nation," Ellenbogen said. "That is where we lack."
Gordon said if employers want candidates with the grit and resilience to solve a problem, they can turn to CMSD graduates who face daunting obstacles to education.
"That's my kid, who has made it through the urban education experience where so many fall off," he said. "We have to hone those skills to the business environment, but they have them."
MC²STEM admits students on a first-come, first-served basis and yet has a graduation rate of nearly 100 percent. The school has filled 100 of its 120 freshman seats for next school year, according to Feowyn A. Mackinnon, interim principal.
The school operates year-round, alternating 10 weeks of classes with three-week breaks. Twelve students attended the panel discussion at CSU on Wednesday, even though they were on break.
Junior Arianna West chose MC²STEM, a the citywide draw, coming out of Paul Revere School on the East Side because she wanted to "meet new people" and "see life as other people see it."
She hopes to become an engineer like her mother and help others. For starters, she would like to develop a machine that will take out the garbage for her 92-year-old grandmother.
"I know I want to give back to the community," she said.
Earlier this year, Arianna gave a PowerPoint presentation on high school options to eighth-graders at Paul Revere. She, too, is getting ready for the next stage of education, heading for a tour of eight colleges – including her No. 1 choice North Carolina A&T – next week.
The panelists closed the discussion with a word of advice for students planning their futures.
Perse cautioned: "Anything that has value has cost. One must put forth serious effort to achieve something."
Irick advised them to set high expectations for themselves, find the toughest possible learning environment and pair with a mentor who truly cares.
Ellenbogen said to think before saying no to an opportunity that is out of their comfort zone. Instead, she recommended: "Take a deep breath, say yes, and give it a try."
Gordon said he would counsel students to follow their hearts.
"Don't do it unless you love it," he said. "If you love it, do it grand."