Return to Headlines
Live at Mound: the Cleveland Orchestra
CMSD NEWS BUREAU
4/9/2015
For more than an hour Thursday, the gym at CMSD's Mound STEM School was transformed into a concert hall filled with the rich sounds of the world-renowned Cleveland Orchestra.
The performance was part of
"The Cleveland Orchestra at Home in Broadway Slavic Village,"
a rotating annual neighborhood residency. Effective March 21 and concluding May 23, the orchestra is connecting with the neighborhood through performances, music education, community service and health and wellness activities.
Orchestra musicians frequently
interact with CMSD students in schools
. "Musical Rainbows on the Road" introduces young children to orchestra instruments; "PNC Grow up Great Musical Neighborhoods," offered in some CMSD preschools, pairs music with school-readiness skills like counting.
Joan Katz Napoli, the orchestra's director of education and community programs, said exposure to orchestral music is especially important for children at a time when schools across the country are cutting back on their music programs.
Mound music teacher Yolanda Stewart could scarcely contain her joy Thursday, snapping cell-phone pictures of students as they gathered around James Feddeck, a former assistant conductor of the orchestra and the day's guest conductor. Students don't often get to see the orchestra in person, she said.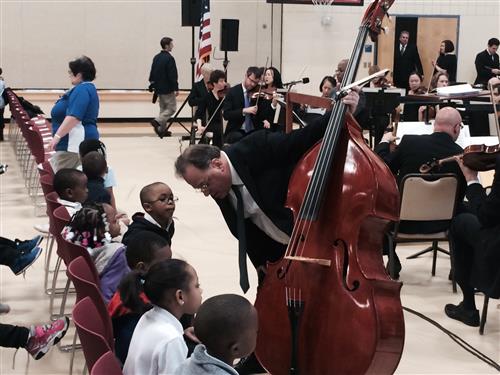 "This experience brings it live to them, brings it home," she said. "It makes it real."
Half of the 105-piece orchestra played, the number limited by space available in the gym. Tony Sias, CMSD's director of arts education and the artistic director at the District's
Cleveland School of the Arts
, narrated.
Sias served as a guide and the orchestra took the students on a tour of the four instrumental groups – brass, strings, wind and percussion. A percussion piece, "Cleveland Shuffle," was clearly a crowd favorite.
Next came Sergei Prokofiev's "Peter and the Wolf." Sias introduced passages in which different instruments represented different characters.
Anastasia, an aspiring fifth-grade violinist, has twice attended orchestra performances at Severance Hall. Her attention danced during Thursday's concert, moving from the drums to the strings to the flute.
When Anastasia learned of the orchestra's impending visit, her first reaction was that "it was going to be awesome." Asked whether the orchestra lived up to her expectations, she replied with a solid, "Yep."
As the concert closed, Feddeck thanked the students for being gracious hosts and welcoming the musicians into their home.
"We hope to see you again, perhaps in our home," he said.