Return to Headlines
Students ID issues, offer solutions
CMSD NEWS BUREAU
4/10/2015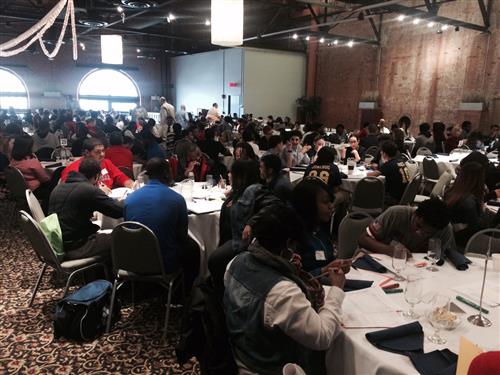 Hundreds of CMSD high school students analyzed numbers Friday, pinpointed issues in their buildings and proposed solutions to their principals.
The work topped the agenda as Chief Executive Officer Eric Gordon's Student Advisory Committee met in the morning at Windows on the River. The meeting was the third of four scheduled this school year.
The Cleveland Plan
, a sweeping set of education reforms customized for the city and written into state law, calls for giving students a voice in their education. Gordon urged the students to take advantage of the fact that they attend class in the only U.S. school district where getting their input is a legal requirement.
Each of more than 30 high schools is asked to pick 16 committee members, four for each grade level, who represent a true cross-section of the student population.
The scale of CMSD's student involvement is rare, said Robert V. Mayo, a consultant to the District from the Washington, D.C.-based
American Institutes for Research
, a nonpartisan behavioral and social science research organization.
"It's unique to see a group this size given access to adult leaders," he said while observing Friday's meeting. "The District deserves a lot of credit for incorporating student voice in authentic fashion."
AIR helped shape the
comprehensive Humanware program
that has provided support for students since the shootings at SuccessTech Academy in 2007. A student who had been suspended returned to the school, wounded two teachers and two other students and then killed himself.
The support includes "conditions for learning" surveys given to students three times a year to assess how they rate the levels of safety, respect and academic rigor in their buildings. When the committee met Friday, members analyzed the latest survey data.
Justin Jacobs, a senior at the Whitney M. Young Leadership Academy, said students there want to feel a stronger sense of support from teachers. He said he has no doubt that teachers sincerely care but said they don't necessarily convey that well, perhaps because of the pressure they feel to prepare their classes for standardized tests.
"I love my school," said Justin, who aspires to work as an electrician after graduation. "I want to help it in any way possible while I'm still here."
The day's guest speaker was Steve Sanders, who graduated from the former East High School in Cleveland and went on to play wide receiver for the Browns and other NFL teams.
The 34-year-old motivational speaker and author encouraged the students to be leaders, which he stressed requires hard work and setting a good example. At the end of talk, he challenged his audience to look him in the eye.
"We're both scared, but we're scared for different reasons," he said. "I'm scared of what you won't become; you're scared of what you could become."
The latest meeting was delayed once because of weather, then by testing. The committee's last meeting of the school year is scheduled for May 12.