Return to Headlines
Bard High School Early College holds open house today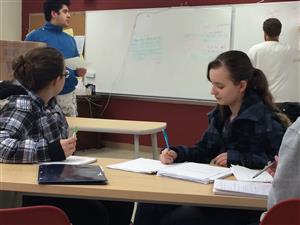 CMSD NEWS BUREAU
6/15/2015
The school is enrolling ninth- and 11th-graders only again this year, its second in the District. That will bring Bard to a full complement of high school grades for the upcoming year as they join last year's students who are now 10th- and 12th-graders.
Bard will move to a new home at 13501 Terminal Ave., the former Carl F. Shuler School, in time for the the coming school year.
The high school is still actively seeking 11th-grade students for next school year, said Kevin Alin, the District's director of school choice and enrollment. The ninth-grade class has been filled, but parents may still attend the open house with their children and learn more about the school in the event that an opening should come up.
"We have had a strong demand, and we're very excited about that," Alin said. "We want to let families know that this is a great choice to get an 11th-grader in a strong school and that their student can also graduate with a two-year college associates degree."
Bard High School Early College is unusual because of the way it blends high school and college curricula. Students can seamlessly earn both their high school diploma and an associate's degree from the college during their four-year high school career -- without ever leaving the school itself. Instead of having to attend a community college off site or take online courses, Bard students take classes that earn them both high school and college credits.
All the teachers at Bard High School Early College Cleveland are Bard faculty. The college operates three similar schools, but Cleveland's is the first outside the tri-state area of New York, New Jersey and Connecticut.
Bard Head of School Dumaine Williams said he is pleased with the quality of students applying at Bard, despite a recruiting challenge often found in early-college high schools or similar high-performing models.
"This is a challenging recruitment effort because the students need to be highly motivated and academically and socially ready for the transition to an early college in the middle of their high school career," he said. " Plus, a lot of really good students are greatly loved and respected at their high schools (by adults and peers), so it is hard for many of them to even entertain the idea of transferring to a new program.
"But, even with those challenges, we are finding some great applicants for this class," he said. "We just have to be a bit more innovative in our recruitment efforts."