Return to Headlines
MC2STEM students show off talents
CMSD NEWS BUREAU
7/1/2015
Students from MC2STEM High School's three campuses converged at Cleveland State University on Wednesday afternoon to have some fun in the sun at a year-end talent show.
Students took turns rapping, reading poetry and singing as their classmates clustered on the grass and concrete area behind the CSU student center. Head of School Feowyn MacKinnon said even a handful of recently graduated seniors came by for the outdoor afternoon show.
MC2STEM is one of the District's four year-round high schools. Students finished classes this week but will start a school year in about three weeks.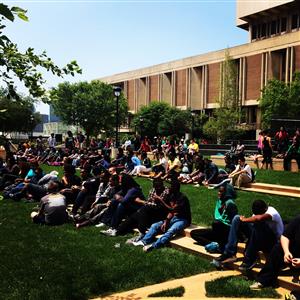 MC2STEM
opened in 2009 with a freshman class. The school now includes ninth-graders at the Great Lakes Science Center, 10th-graders at GE Lighting's Nela Park campus and 11th- and 12th graders at Cleveland State University.
The school, which specializes in science, technology, engineering and mathematics, was
mentioned in the online version of President Obama's 2014 State of the Union address
The partnership with CSU was strengthened in November 2014 when the District and its partners celebrated a grand opening of the KeyBank Classrooms in STEM Education at the university.
The KeyBank Foundation contributed $1.25 million to renovate space for the students on two floors of Rhodes Tower and has given more than $2.5 million to STEM education in the District.

The facilities at CSU include a Fab Lab that is equipped with computers linked to laser-powered cutters and other machinery.