Return to Headlines
Agriculture chief visits FDR meal site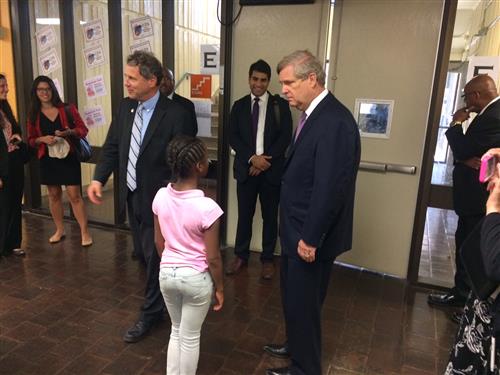 CMSD NEWS BUREAU
8/7/2015
U.S. Secretary of Agriculture Tom Vilsak visited CMSD's
Franklin D. Roosevelt School
at meal time on Friday, getting a firsthand look at a vital source of nutrition for children during the summer.
Vilsak was in the region for other purposes and wanted to see a USDA-funded meal site in operation. The visit was arranged by
Boys and Girls Clubs of Cleveland
, which runs a club based at the school in the Glenville neighborhood, and the
Greater Cleveland Foodbank
, which supplies meals at the club and receives reimbursement from the government.
The FDR Boys and Girls Club is open from noon to 4 p.m. weekdays in the summer and serves about 95 bagged lunches a day.
Vilsak and Brown handed out brown bags with lunches that featured turkey and cheese sandwiches. Food bank and club representatives said the lunches are distributed at 3:15 p.m. because the meal is the first that many of the children have had all day and may have to sustain them into the evening.
"This summer food program is of critical importance," said Vilsak, who was accompanied by U.S. Sen. Sherrod Brown.
During the school year, FDR's club runs Monday through Friday, offering tutoring and activities from the time classes let out until 6:30 p.m. The food bank provides a hot meal at the end of the day, coming on top of breakfast and lunch from the District.
Before students go home for the weekend, the food bank passes out 66 backpacks that contain items like cereal, fruit, peanut butter and jelly sandwiches, lasagna, chicken noodle soup and fruit snacks, said Alonzo Vance, manager of programs.
The FDR Boys and Girls Club
opened during the 2013-14 school year
. Boys and Girls Clubs of Cleveland had been seeking a school location and chose FDR at the recommendation of District Chief Executive Officer Eric Gordon, said Allen Smith, the agency's director of operations.
"It's been a wonderful partnership," Smith said.
Boys and Girls Clubs of Cleveland has since added a club at Walton School on the West Side.