Return to Headlines
Five schools to distribute food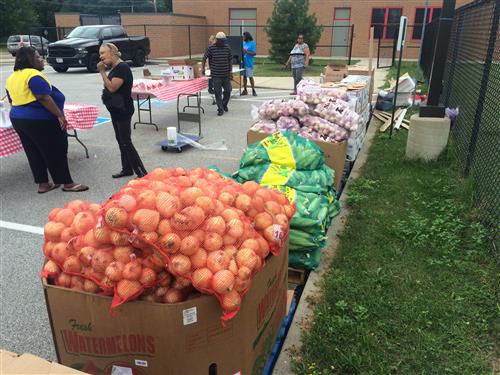 CMSD NEWS BUREAU
8/12/2015
Five CMSD schools will help feed the community with monthly food distributions.
A three-year grant from the Morgan Stanley financial services company will support community food pantries at one high school --- the Garrett Morgan School of Science -- and four elementary schools: Adlai Stevenson, Case, Marion-Sterling and Willson.
The project is part of Morgan Stanley's
Healthy Cities Initiative
. Cleveland is the fifth city to participate, joining Chicago, Newark and Oakland in the United States and London, England.
Cleveland schools are well aware of the need for a food program. More than half of Cleveland's children live in poverty, according to census data. That is the second highest rate in the country.
The
Greater Cleveland Foodbank
applied for the grant. Plans also call for adding physical-education equipment or activities at the schools and providing community health screenings and nutrition education.
The food distribution schedule is not final, but volunteers will give out food once or twice a month after the school day, said Ariana Fiorita, nutrition manager for the Greater Cleveland Foodbank. The pantries will receive six to 10 pallets, each loaded with 1,000 to 2,000 pounds of food. Households will share produce and items such as dry beans, brown rice, peanut butter, jelly, macaroni and cheese and bread.
The five schools responded to a mass invitation sent by Zerrine Bailey, who works with CMSD on behalf of the
Alliance for a Healthier Generation
, an organization founded by the American Heart Association and the Clinton Foundation. Bailey said the schools that responded already promote good nutrition and exercise and "saw the potential of enhancing what they are already doing."
With the help of the Foodbank, Marion-Sterling School has sponsored food distributions twice a month for the last year, while Willson School began giveaways in May. The other schools will start next month.
Willson, located on Ansel Road, overlooking Rockefeller Park, hosted a distribution Wednesday afternoon.
As volunteers waited for crowds to arrive, pallets sat stacked with cartons and sacks containing green beans, apples, turnips, sweet potatoes, onions, sweet corn and yogurt.
John Dorotics, a physical education teacher at Willson for 18 years, leads the project.
Dorotics said he had wanted to bring a pantry to the school for some time because of the effect that hunger has on the students. He said he set the monthly distribution for the second Wednesday of the month because it helps those who receive government assistance to stretch their supplies.
"There are a lot of our kids and families who without stuff like this, or without school lunch and breakfast, they just don't eat," he said.
Fiorita said the Foodbank hopes to continue the food distributions after the grant period ends in May 2017.