Return to Headlines
CMSD, Case Western testing children for lead poisoning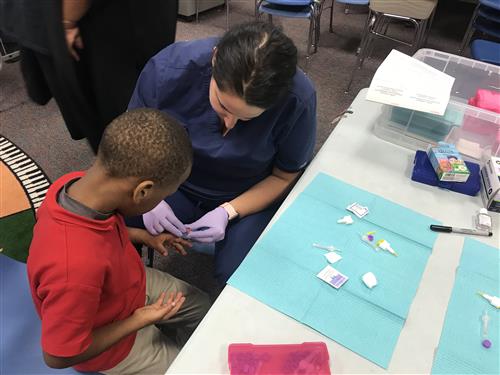 The kids have their fingers pricked to get drops of their blood. But they earn a sticker, pick up a free toy and help Cleveland respond to a major community health crisis.
A third year of blood testing, conducted with parental consent, has begun for 3- to 6-year-olds attending CMSD's elementary schools. Samples drawn by Case Western Reserve University nursing students and District nurses will be used to screen children for high levels of lead.
Children can get lead poisoning after exposure to lead-based paint, as well as contaminated soil and water that flows through lead pipes. The effects can include developmental delays, learning difficulties, behavioral problems and speech and language deficiencies.
The problem is widespread in Cleveland because most of the housing was built before 1978, when the United States banned the manufacture of lead-based house paint.
The first tests were conducted Sept. 30 at Willson School, located on Ansel Road near Rockefeller Park. About three-fourths of the 86 eligible students participated, but the work was not complete.
"We'll come back to finish up," said Lynn Lotas, an associate professor at Case Western Reserve University's Frances Payne Bolton School of Nursing and director of the lead testing program, known as Partners in Health. "We work until we get 80 percent, but if we can get 100 percent, all the better."
Besides CWRU, Partners in Health includes CMSD, Mayor Frank G. Jackson's office, the Cleveland Department of Public Health and the MetroHealth System.
Lotas' goal is reach at least 30 of CMSD's 67 elementary schools by the end of the first semester and the rest before the end of the school year.
To obtain parents' support, Willson School nurse Elaine Ebose announced the testing at open houses in September, promoted it through a school newsletter and asked teachers to spread the word.
Partners in Health assures parents that detection of high lead levels in their children's blood is not grounds for them to lose custody or be evicted from their homes.
"People are nervous, they are scared," said project manager Martell Jackson, a former Cleveland schools cleaner who is pursuing a master's degree in health care management at Case Western Reserve. "They believe lead is their fault. It's not. Lead is an environmental problem."
Lotas said participation is running high across the schools, thanks to phone banks that school nurses are staffing two nights a week. Parents can give consent by phone, and Lotas said the school nurses' status persuades parents to listen.
If analysis finds lead content of at least 5 micrograms per deciliter, blood will be drawn again for confirmation. If the count is 10 micrograms or higher, the family will be referred to the Cleveland Department of Public Health for assessment.
Partners in Health will work to connect families of children with high lead counts to medical providers and other professionals for evaluation and assistance. The program also will work with community partners to help remove or remediate sources of lead in homes.
The lead-testing program is in the third and final year of a $300,000 grant from the Elisabeth Severance Prentiss Foundation. Partners in Health is seeking money from various sources to extend the program. Testing was held at a limited number of schools during the first two years.
The grant covers direct project expenses, so Lotas and others reach into their own pockets to buy pizza for the phone bank crews and toys for the children who are tested.
"We're getting low on toys," Lotas said as she watched a collection of small stuffed figures vanish from a table at Willson School. "I'll be hitting Walmart tonight."