Return to Headlines
Teen loses way, then finds right path
Ciara Scott headed down the wrong path, made an abrupt U-turn and earned a college scholarship for her efforts.
Ciara just graduated from Washington Park Environmental Studies, a career-tech high school located next to the Cleveland Metroparks' Washington Reservation. She carried an A average.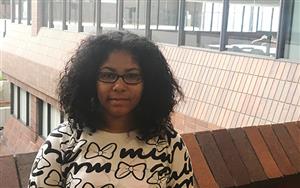 Not long ago, Ciara was an angry teenager, clashing with the grandmother who took custody because Ciara's mother died when the child was 2. Ciara fell in with what she called the "wrong people," moved to a foster home and was enrolled in the Positive Education Program, or PEP, which is for troubled children.
The turnaround came in her junior year. Ciara aspired to attend college and preferred to list a traditional school on her resume. She transferred to Washington Park and focused on animal care.
"I want to be a veterinarian," she said during a break from commencement rehearsal at CMSD's East Professional Center. "I grew up with a lot of animals around. When I was down, animals were always around to make me happy."
Starting this fall, Ciara will study biology at the University of Southern Maine in Portland, where she has relatives.
She will go with the help of a $5,000 Beat the Odds scholarship from the Children's Defense Fund, a nonprofit child advocacy group based in Washington, D.C.
The scholarship, one of three Ciara received, goes to a student who has overcome tremendous adversity, demonstrated academic excellence and given back to the community. Ciara was one of five Ohio students who received the awards.
"I am proud to say I have made it through everything that happened to me and I bet my mother would be proud of me"
"I am proud to say I have made it through everything that happened to me and I bet my mother would be proud of me," she wrote in an essay submitted to the Children's Defense Fund. She closed by adding: "I'm excited to see where this adventure takes me."
Ciara credits her success to a "bunch of people," including her foster mother, PEP faculty and staff, and friends. But an inner drive also contributed to her success.
"When I want to get something done, I don't stop at anything," she said at graduation practice.
Washington Park counselor Nichole McCroskey sees the same qualities from an outside perspective.
McCroskey said Ciara was on the right track when she arrived at Washington Park and had drawn good reviews from PEP. Ciara took initiative in planning for college and served as a role model for classmates as they were going through tough times.
"She is very determined," McCroskey said. "I have no doubt that she will be successful in whatever she puts her mind to."