Return to Headlines
Student Advisory Committee confronts equity, inclusion issues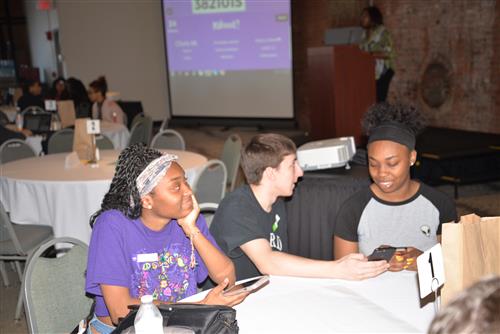 CMSD NEWS BUREAU
5/22/2017
CMSD Chief Executive Officer Eric Gordon has had enough conversations with high school students to know some of their most pressing concerns. Those concerns were the topic of his welcoming remarks at the most recent Student Advisory Committee meeting at Windows on the River.
"Many of you have shared with me that one of the biggest pain points of being a teenager in Cleveland is the feeling that people see you as criminals on the streets," he said. "They don't see you as a straight-A student on their way to graduating. They see hoodies and not people."
This idea of students grappling with their own identities and the way others perceive them shaped the theme for the convening of student leaders from the District's 35 high schools. The meetings, held four times per school year, guarantee that students have a voice in what's happening in their schools. The Cleveland Plan, a reform plan written into state law, requires each school to appoint a delegation and give students a say in their education.
In the past, students have tackled issues ranging from how to improve their school's attendance rate to working with Cleveland police on building better relationships with teens.
The latest meeting, the last one of the 2016-17 school year, centered on equity and inclusion in the District and students' neighborhoods, along with how teens can improve the way their community sees them.
"When I talk about equity and inclusion, I want you to challenge yourself, as you do in every conversation, to have very honest, open conversations about the role race, gender, sexual orientation and background play," Gordon said.
And that's what the students did, starting with a guided discussion about how welcoming their schools are to people of different identities and ending with devising creative solutions to make it better.

Bard High School Early College Cleveland 10th-grader Faith Stout said her group wants to start by creating their own survey, based on the group questionnaire that guided the SAC discussions, and ask the entire school to fill it out. The group wants to get a feel for things like how many students have friends of different backgrounds and identities, how often teachers discuss tough topics like race, culture, gender and poverty and how accepted students feel at Bard.
Max S. Hayes 10th-grader Marilyn Macario said her group's conversation helped her realize that while her school is diverse and accepting of different types of people, there's still more work to do. The group proposed creating clubs that allow LGBTQ students and students of different cultures to meet among themselves and share their stories with the rest of the school.
"You can see that a lot of people have very stereotypical mindsets, so all of us think it's time to change that and embrace diversity," she said. "It's important for all of our student councils to meet and have these discussions, because it's not talked about enough."
Students also had the chance to hash out some of the frustration they feel over how the community perceives them. The activity asked each school to analyze actual incidents involving teens in Northeast Ohio that may have given the whole demographic group a bad reputation. For instance, a massive fight broke out last December at Beachwood Place that was loosely organized on social media. It led to police officers deploying pepper spray on the teens and ended with the mall announcing a curfew for teens.
Students took turns speaking at a microphone to the entire room about what the involved parties could have done differently to keep the situation from escalating. While not everyone had the same opinion, it was a chance to hear multiple perspectives on a controversial topic.
This meeting will bring student voice to the work already being done by a District task force on equity and inclusion, according to Denine Goolsby, who leads the CMSD Humanware Department. Humanware works with the advisory committee and oversees other social and emotional learning programs.
"We have all these adults working on these important issues, but it's imperative that we get students' input on how they're perceiving things in their schools," she said.
Goolsby said her team will collect survey answers and reports from each school's committee and pass the findings on to the task force.
Action after the meetings
The work and discussions that students have at the SAC meetings often result in real action and change for their schools.
For instance At JFK E3agle Academy, the SAC group made it their mission to improve attendance after one SAC meeting earlier this year that focused on chronic absenteeism and the District's "Get 2 School. You Can Make It!" attendance campaign.
After the meeting, the SAC students presented to the rest of the student body and their principal to report back on what they learned. The group of student leaders then came up with strategies to improve attendance by focusing on improving safety and holding their friends accountable.
Eleventh-grader Lauryn Young said there was a feeling among students that they didn't feel safe coming to and from school due to multiple recent shootings in the community, some of which involved JFK students being shot.
They decided to tie together safety and attendance with a two-pronged strategy. First, they met with a group of teachers who agreed to patrol the streets and bus stops near the school during arrival and dismissal to make sure students got to school safely. The second part involved a campaign to encourage students to call their friends when they noticed they weren't in school and motivate them to get there. According to Lauryn and her fellow student leaders, students began holding their friends accountable for attendance.
The student committee also took charge of creating incentives for attendance, including a Friday dress-down day for the grade with the highest attendance each week.
Lauryn said working as an SAC member has helped her take ownership of her school's successes and challenges. The meeting that focused on attendance, which also involved students creating posters to be used in "Get 2 School. You Can Make It!" advertisements, helped open her eyes to the importance of strong attendance to academic success.
"It made us more concerned about our school, and it made us want to take action to make sure the students get to school to get their education and graduate," Young said.
The student-driven attendance initiative worked, according to Ornette Gardenhire, JFK E³agle dean of engagement and advisor to the school's SAC group. He said the school's attendance increased 5 percentage points in one quarter after the student leaders started the attendance push, reaching 90 percent.
Gardenhire said that along with the concrete and measurable changes that students achieve, participating in the SAC helps them build invaluable skills in teamwork and leadership and makes them feel like they matter.
"When students see the concern starting from Eric Gordon all the way down the chain about their safety, their voice and their conditions for learning, that resonates," he said. "Sometimes students feel that they aren't paid attention to, but with these meetings and the work that comes out of them, they feel valued."