Return to Headlines
CEO welcomes new teachers to CMSD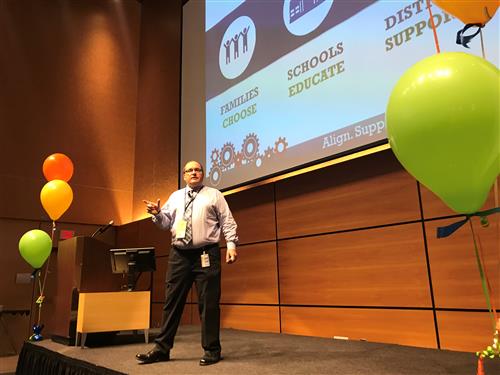 CEO Eric Gordon kicks off the District's fifth annual BLUE Institute
CMSD NEWS BUREAU
7/23/2018
CEO Eric Gordon welcomed new teachers to the District on Monday, stressing the vital role their profession plays across the country and particularly in urban centers like Cleveland.
"You are doing some of the most important work in our nation," Gordon said in kicking off CMSD's fifth annual BLUE Institute at Corporate College East in Warrensville Heights. "And you are doing it for the kids who need it the most."
The three-day institute gives new teachers a chance to network and learn about the District and its culture. BLUE stands for Build, Lead, Utilize and Engage.
Gordon presented an overview of The Cleveland Plan for education reform and its cornerstones: growing the number of high-performing schools while closing and replacing those that are failing; transferring authority to individual schools and shifting the central office to a support role; investing in systemwide reforms like high-quality preschool; and creating the Cleveland Transformation Alliance to ensure accountability.
The Plan calls for developing a portfolio of quality traditional public and charter schools and letting families select from options across the city so they find the right fit.
The CEO said the District has positioned itself as a competitive choice after years of political and financial turmoil and loss of students to the suburbs, charters and private schools that accept state vouchers. District enrollment has stabilized and even increased with improvement in test scores, the graduation rate, family engagement and students' perception of safety.
The 130 teachers in the room were a mix of those who are new to the profession and those who have experience but are new to the District, of those who are from Cleveland or from elsewhere in Ohio and out of state. CMSD recruited them with its Teach Cleveland program and will support them with Teaching Cleveland, a retention initiative that acquaints new teachers with each other, the District and the city.
First-time teacher Andrew Martin graduated from East Tech in 2010, attended the University of Akron and then went to work as director of a baseball league in suburban Dallas. Martin, who will teach physical education at Charles W. Eliot PreK-8 School, was inspired to return and show youths that a world of opportunity lies beyond the boundaries of their neighborhoods.
"I felt like it was a calling to come back home to share my experience and how a great education can open doors," he said.
Rebecca Gutwein did not set out to make her career in urban education but is sold after two years of experience in Lorain.
"I find it a little bit more rewarding," said Gutwein, who will teach seventh-grade math at Robinson G. Jones PreK-8 School. "I do think I am making a difference in kids' lives."
Nine year-round high schools will return from summer break next week, with ninth-graders reporting on Monday and 10th- through 12th-graders back on Tuesday. Four high schools with extended years will start classes on Monday, Aug. 6.
Most CMSD schools will return from break on Monday, Aug. 13.
Have a story idea for the CMSD News Bureau? Email it to newstips@clevelandmetroschools.org.