Return to Headlines
Eighth-graders introduced to mentoring program (video)
CMSD NEWS BUREAU
9/10/2015
More than 800 CMSD eighth-grade students spent the day Thursday seriously pondering some of the deepest and most important questions about their future during the kickoff for the
new True2You mentoring program.
Dozens of successful business and community leaders and CMSD partners, including teachers, CEO Eric Gordon and well-known author and
inspirational speaker Stedman Graham, w
orked extensively with the students, challenging them to think hard about their upcoming time in high school and eventual career plans.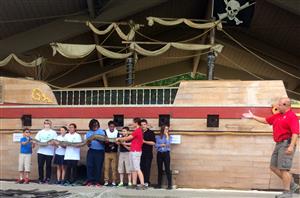 Oh, and they did it all at the Cleveland Metroparks Zoo. With the elephants. In the RainForest. Some even contemplated life while holding a nine-foot long boa constrictor.
The zoo was the perfect serious-but-fun site for the all-day, sun-splashed launch of the Cleveland Foundation's True2You youth development program.
Nearly two dozen CMSD schools were represented at the event as the students took part in a frenzied and often hilarious scavenger hunt in the RainForest, participated in a live-animal show and zoo career introduction at an outdoor amphitheater and attended a lecture and workshop with Graham.
True2You, led by the Greater Cleveland Partnership, aims to give every CMSD eighth-grader a mentor from the Northeast Ohio business and professional community. The program will pair 200 mentors with students at 23 schools this year and grow over two years to serve nearly 70 schools and an estimated 2,400 children.
Students asked one big question
Gordon got the early morning crowd whipped up, first by calling on each school to out-cheer the other during introductions.
"This is s a really cool program that you're about to experience all year long," Gordon said. "In fact, this is so important that instead of doing it as an after-school program, we're bringing it into school as part of your day. That tells you that something important is going on here."
Cleveland Foundation Executive Vice President Robert Eckardt told the students that "everyone needs a mentor" and said the program, in part, was designed to "give you space to ask questions, all kinds of questions."
Featured speaker Graham teased each of three different groups by reducing the program to a single tantalizing question.
"The most important question in the world anyone will ever ask you is, 'Do you know who you are?' " he said, bringing up a group of students to attempt an answer and then teaching for more than hour about the value of knowing yourself.
The students struggled at first, identifying themselves only by name or by school but began to tag themselves with more detailed and positive labels as they gained confidence. Each of the students also received a paperback copy of Graham's book "Teens Can Make it Happen: Nine Steps to Success."
Graham brought all of the CMSD teachers in the audience to the front to answer a related question: "What happens to someone who doesn't know who they are?"
Willow School teacher Mark Steinbrunner said he was a military veteran who saw firsthand what happened to people who lacked that knowledge.
"If you don't know who you are you'll allow others to choose your career path, your life -- to define you," he said.
A teacher at Willson School chimed in, saying that those without self-knowledge "live in uncertainty, with no control over their future."
Fellow Willson teacher Jen Orbash agreed: "When you don't know who you are, you're lost," she said. "You have to figure out who you are to take advantage of the positive things in life."
The comments aligned with Graham's message, which also included personal accountability.
"The world sees you as you see yourself," he told the students and teachers. "You have to raise your value."
Students, teachers, and mentors respond
After the program, students said they liked the idea of a mentorship program.
"It's a good idea because they can show us some things we may not have thought about," said Tyler, an eighth-grader at William Cullen Bryant School. "They can challenge us to think beyond now."
Classmate Brandee Alexander said she is looking forward to meeting with a mentor to help her think through a future in college or work.
Teacher Dedria Price of Mary M. Bethune School, a 17-year CMSD veteran, said she was thrilled to see students getting more help at such a crucial age. "We've already got them thinking about their high school and to have them thinking about career is also valuable."

The biggest smiles on Thursday may have come from the dozens of volunteers from a number of Northeast Ohio companies, including Lubrizol, Medical Mutual, KeyBank and Sherwin Williams
.
Carol Sadewasser, a volunteer from Lubrizol, said she is thinking ahead to her own retirement and seeking a way to give back to the Cleveland community.
"I'm passionate about helping people reach their potential, and there are so many exciting things going on Cleveland schools," she said. "This community belongs to all of us, and these students are a big part of that."
Christina Mastromatteo, a lab scientist at Lubrizol, said she hopes to transfer her passion for science to students. "Science is cool and they're seeing some of that today at the zoo," she said.
Volunteer Mathew McCluskey of the Neighborhood Leadership Institute said the beauty of mentorship is that it continues from generation to generation.
"A lot of the mentors here have talked about the mentors in their own life, and these students will likely go on to mentor others," he said. "The big idea is to get eighth-graders a perspective from someone in addition to their family and teachers, to help give them the seeds of what they want their own story to say. This is a great first step."