Return to Headlines
Cleveland Browns play flag football with CMSD (video)
CMSD NEWS BUREAU
9/24/2015
The Browns may have beaten the Tennessee Titans last Sunday for their first win of the season, but by Tuesday two of their defensive stars had a hard time keeping up with a swarm of determined second graders.
Browns linebacker Craig Robertson and defensive back K'Waun Williams ran through drills and played a crazy, chaotic game of flag football with the students at Charles Dickens K-8 School as part of an
NFL Flag Football
Clinic and in support of the team's
PLAY60
program, which is affiliated with University Hospitals and the American Dairy Association Mideast.
"Whew, you guys just don't stop!" Robertson joked as he tried to elude some of the younger "players" during the scrimmage.
Both players also talked with the students after the workout, reminding them to get plenty of exercise and eat right – as well as study.
"It builds character, it builds friendships and most of all, you're staying healthy," Robertson told the students.
Students also asked the players questions, including about where they went to college (Robertson, University of North Texas; Williams, University of Pittsburgh).
Afterward, the players took photographs with the students, Principal Lisa Braxton and other school employees.
The Browns, who also promote their BrownsGiveBack and Browns Youth Football programs, had invited CMSD educators to the team's facility in Berea in February for an introductory session on flag football.
The event was also linked to the team's First and Ten (#give10) volunteering initative, launched in June 2014, which urges fans to volunteer in their community for 10 hours each year.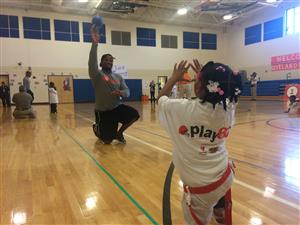 Charles Dickens Principal Lisa Braxton credited physical education instructor Gretchen Tucholski, who led the flag football event on Tuesday, with transforming the program at the school.
"She's a real 'PE' teacher," Braxton said. "They do warm-ups and she always models things before she introduces them to the students."
Braxton said Tucholski also has interested students get involved in the We Run This City program and that she successful landed grant money to buy the flag football equipment.