Return to Headlines
Cavs, volunteers plant 'Trees for Threes' (video)
CMSD NEWS BUREAU
10/21/201
The wide open spaces surrounding Anton Grdina School on E. 71st Street and Kinsman Road nearly became an instant 4-foot-high forest Wednesday morning, thanks to CMSD partners that included the Cleveland Cavaliers, PricewaterhouseCoopers (PWC) and Davey Tree.
The event was part of the team's "Trees4Threes" initiative, which commits to plant one sapling for every three pointer the Cavs make during regular season home games. Other partners include the Western Reserve Land Conservancy.
The Cavs made 826 three-pointers last season. You can follow the
tree-tracker this year on their website
to see how many trees they'll plant next year.
"It's about making their back yard a little nicer, but for us it's always about giving back to the community, " said Cavs Corporate Partners spokeswoman Tamzin Barroilhet. "We really want to make it about the kids, to get outside with them and do the actual work."
Anton Grdina students joined the volunteers and – with guidance from Davey Tree experts – planted more than 320 hardwood trees ., about a third of the trees the team is planting this fall. About 220 were put in the soil on school property and the remaining 100 on adjacent land owned by the Cleveland Metropolitan Housing Authority, school Site Coordinator Marionna Bennett said.
"That was awesome today, and the kids were so excited that they planted the trees in about an hour," Bennett said. "We thought it would take at least twice that long."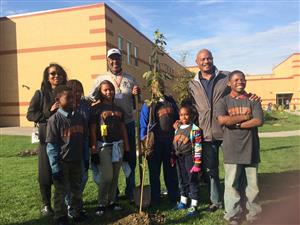 Cavaliers greats Austin Carr and Campy Russell, both members of the team's 1976 "Miracle of Richfield" Eastern Conference finalist team, helped out at a pep rally prior to the event and with the planting.
Carr helped a group of seventh-graders plant their maple tree and then posed for pictures. "This is so good for them to be out here doing this today," Carr said. "This will help them in their pride for the whole neighborhood, for their community and for the city."
Principal Harold Booker said that while the event was exciting for a few hours, the impact would be long lasting – and not just because the trees will grow so much taller through the years.
"We're excited to have all of these wonderful partners here to beautify our yard, to give life to our grounds, because it's an opportunity for our scholars to understand life itself," Booker said.
Learning opportunities were evident all across the Anton Grdina yard Tuesday as students and volunteers pulled the trees out of their plastic pots, loosened up the roots and then planted the sapling, surrounding it with good dirt.
Lisa McDanels of the PWC Marketing Department took a moment to enlighten her group about the importance of trees in reducing stormwater runoff.
"Do you guys understand what that means?" she asked. "What trees do is absorb the water, with their root system, so that all of the water doesn't go right into Lake Erie or overwhelm the treatment plant."
Afterward, she said the company had brought about 200 volunteers to the event.
"This is what it's all about -- a chance to be outside, to help these kids appreciate the outdoors and the trees and to be a part of their success," she said. "We were all so impressed with this school and these students."