Return to Headlines
Small schools planned for Lincoln-West, Rhodes
CMSD NEWS BUREAU
11/4/2015
CMSD will seek to sharpen the instructional focus and raise achievement at Lincoln-West and James Ford Rhodes high schools with new designs that will change each institution into a campus of new, small schools that better meet the needs of today's students and staff.
Lincoln-West and Rhodes possess strengths, but student data shows much more room for academic growth, said Christine Fowler-Mack, the District's chief portfolio officer. The District also hopes to use the new direction to better market the schools.
Three new small high schools, the latest in a series being developed by CMSD, will open next fall. Teams representing the District and community, including parents, teachers and students, will spend the year planning the new designs with the help of $3 million in philanthropic support from
Carnegie Corporation of New York
. The grant also includes support for implementing the plans to help ensure a successful rollout.
This is the second grant CMSD has received through the foundation's
Opportunity by Design program
, which seeks to help "do school differently." In 2013, the program's first year, Carnegie Corporation funded planning for
JFK E³agle Academy
and
JFK PACT
, which were created to share the John F. Kennedy High School campus.
The new schools will open with younger students and grow to include all four grades. Adding students over time will help the schools develop cultures, build relationships between staff and students, and clearly define "what we teach and why we teach it," said Fowler-Mack.
"We're not placing a value judgment on the way either school has operated in the past," said Fowler-Mack, whose office oversees development of new school models and provides support for the models in the first three or four years. "They served their purpose, but we're now preparing students for a different future, not our past."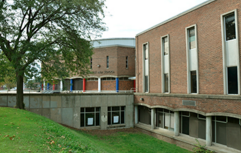 School themes taking shape

Planners have yet to flesh out the details, but Lincoln-West (shown in photo at right) will offer two distinct school options. Students will still come together under the Lincoln-West banner for interscholastic sports and other activities.

One of the new schools will focus on international studies, a fitting theme at the ethnically diverse Lincoln-West; the other will concentrate on science and health. The MetroHealth System will serve as a "signature partner" of the science and health school, Fowler-Mack said.


MetroHealth is one of Lincoln-West's neighbors and, with active involvement from the president and CEO, Dr. Akram Butrous, has already begun to work closely with the school. CMSD and the hospital system recently launched
MetroHealth Scholars
, a monthly series that introduces Lincoln-West and Rhodes ninth-graders to the health-care industry and the jobs it offers.
Lincoln-West Principal Irene Javier will assist the planning team full time for the next year, then head the international-studies school. Assistant Principal Darla Hilt will serve as interim principal during the planning period.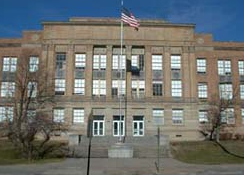 Ninth-graders who enroll at Rhodes for next fall will choose between the existing program and a new small school.
The new school will have its own leader, staffing, curriculum, budget and schedule. Its thematic focus has not been determined.
A second new high school model will be designed at Rhodes during the 2016-2017 school year and replace the existing program in August 2017 (See existing building in photo, right).
New and enhanced school models are a critical part of
The Cleveland Plan
, a citywide blueprint for education reform. The new models at Lincoln-West and Rhodes will increase options for the West Side and be more convenient for the hub of Cleveland's Hispanic community.
Carnegie Corporation invests a second time
Cleveland is one of six cities that Carnegie Corporation has assisted.
The foundation has developed 10 research-based design principles aligned with 21st Century college and career readiness goals. Each principle emphasizes a tailored approach to meeting the specific needs of an individual school, its students and the community, including a focus on personalized learning and mastery of a rigorous curriculum.
In keeping with those tenets, schools adopt strategies that include flexible scheduling, more effective use of technology, clear definition of school culture, partnerships with outside organizations and student input in decisions.
E³agle (the three E's stand for envision, engage and excel) and PACT (Problem-based Academy of Critical Thinking) operate at the former Cranwood School but will shift to the JFK campus next year after adding the 11th grade.
E³agle uses the Socratic method of inquiry and emphasizes social justice, while PACT stresses project-based learning.
Both are part of an emerging national movement toward "mastery" learning. In mastery learning, students progress to graduation based on demonstrated evidence that they have mastered the subject matter.
Students in the new schools at Lincoln-West and Rhodes will also be graded based on mastery. Other mastery high schools in the District include
MC²STEM
and the
Cleveland High School for the Digital Arts
.
Although E³agle and PACT have been open for only one year, early indicators show great promise for student success, said LaVerne Evans Srinivasan, vice president, national program and program director, education.
She said the foundation has been "inspired by the leadership at both schools in terms of using youth development principles and real-time information about students' academic progress to create learning environments that are supportive, engaging, and personalized."
Carnegie Corporation considers its two grants an investment that will provide sustainable and long-term benefits to the city and its students, Srinivasan said.
"This latest grant will enable Cleveland to develop and launch three additional personalized high school models and is a testament to the commitment of the district, the mayor and the local community to improve educational opportunities for their high school students," she said.
Small schools are CMSD trend
The District took the small-schools approach 10 years ago after fully renovating the former John Hay High School, now known as the John Hay Campus.
John Hay was divided into three new small schools: the
Cleveland School of Science and Medicine
, the
Cleveland School of Architecture and Design
and
Cleveland High School Early College
.
The
John Marshall Campus
, which opened this school year in a new building on West 140th Street, also houses three new small schools: the John Marshall schools of Engineering, Information Technology and Civic and Business Leadership.
A team with representatives from John Marshall and the community worked for a year to establish design guidelines for the schools and designate a focus for each that meets the region's needs.
Planners based the themes on a market study that the FutureWorks consulting firm prepared for the Cleveland Foundation. The Cleveland and George Gund foundations provided money for the new design of John Marshall.