Return to Headlines
Harlem Globetrotter delivers anti-bullying message (video)
CMSD NEWS BUREAU
11/4/2015
The students at Clark K-8 School were more than a bit eager to review their ABCs on Thursday.
That's because it was
Harlem Globetrotter John "Hawk" Thomas
leading the simple-but-important lesson at noon in the school cafeteria. His bullying prevention ABCs stood for Action, Bravery and Compassion.
He told the students that he was pushed around and bullied when he was a young boy but that today students are given much more information about how to prevent bullying and what to do if they are bullied that these students have tools he didn't have.
"And remember that last one -- compassion!" he said, wrapping his arms around his own chest and heart. "You can take action and be brave, but also have compassion."
After leading the students through a few simple games, Thomas stirred excitement by choosing which teachers would take part in a basketball skills demonstration -- based on how loud the students cheered for each one. Fifth-grade teacher Colleen Campbell and physical education teacher Garry Cipra got the loudest ovations and took turns learning the ball-handling tricks of the Globetrotters.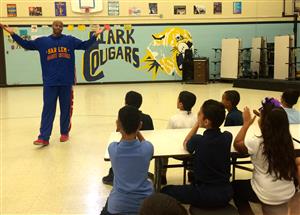 Thomas, known for his flamboyant dunking, began his college career at North Carolina State University before transferring to Marshall University in 2010. A good student, he was named to the All-ACC Academic Team in 2009 and the Conference USA All-Academic Team in 2011.
Thomas finished his undergraduate degree in sports management in just three years and is currently pursuing a master's degree in sports administration from Marshall.
According to the Globetrotters' website, the bullying prevention program is conducted in coordination with the National Campaign to Stop Violence and works to give 6- to 12-year-old students "tools that kids can use on a daily basis to reduce bullying. The Globetrotters equate what it means to be part of a team to how kids can offer support to one another to help stop bullying.
The 6-foot-5-inch Thomas towered over the Clark youngsters but connected easily with them, their teachers, staff and Principal Amanda Rodriguez.
Rodriguez said the Globetrotters selected Clark from a host of other applicants. She hopes to have a follow-up presentation when the entire team is back in Cleveland for a game.