Return to Headlines
Schools usher students through college admissions maze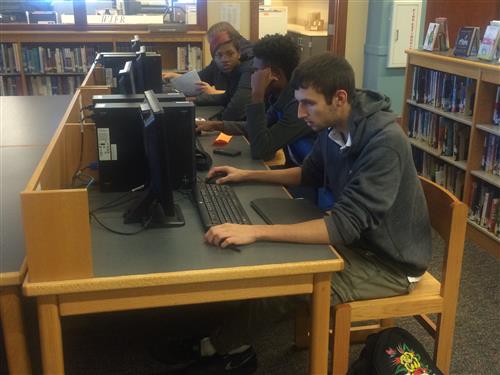 CMSD NEWS BUREAU
11/11/2015
At James F. Rhodes High School, the push to get more graduates into college doesn't end with coaxing.

Rhodes is among 10 high schools where CMSD and partners walk side by side with students as they select institutions, apply for admission and secure financial aid.

Wednesday was College Application Day at Rhodes, with time set aside for seniors to complete online admission applications in the media center. Counselors and volunteers moved among tables and banks of computers helping the teenagers to fill in the blanks. Many students had already submitted applications but planned to turn in more.

Head counselor Wendy Forrey urged a morning group to make a good impression by paying attention to punctuation and not treating the application like a text message. She promised to serve as a resource again when the graduates-to-be pursue financial aid.

"We are going to finish the job," Forrey said. "You are going to walk through the doors of higher education next fall."

This is the second year of intense focus on the 10 schools, selected because large numbers of students have tested near college ready or above on the ACT exam. Besides Rhodes, the schools include John Marshall, New Tech West, John F. Kennedy, Martin Luther King, Glenville, Lincoln-West, the Cleveland School of the Arts, the Cleveland School of Architecture and Design at the John Hay Campus and John Adams.

College Application Day was part of Ohio College Application Month. Other activities held at Rhodes throughout the year include college test preparation, a college essay-writing workshop, a financial aid night and counseling on scholarships.
Last school year, 55 percent of CMSD seniors applied to college, according to Kate Schwab, the District's director of career and college readiness. She said the District wants to raise the number to 60 percent this year and 65 percent by 2017.
Forrey and Rhodes' three other counselors hope that as many as 200 of the school's 270 or so seniors apply to at least one college. They would like to see the students complete four or more applications because volume increases the likelihood they will find the right fit and get the maximum amount possible in financial aid.
The counselors' message is direct: Students need to graduate and get a college education or some postsecondary job training to land high-paying careers in today's economy.
Forrey encourages those who hesitate to consider community college because it is less expensive and may be free, based on their financial situations. The students can earn credit in core subjects while staying close to home and holding on to jobs that may help support their families.
"Sometimes, their path has to be a different path," Forrey said. "Sometimes, they're not going to go straight into a four-year college. But they have to have a plan. They have to do something."
Marcus Clow pored over an application Thursday in the Rhodes media center. He said the school had been a big help in navigating the application and admission process.
Marcus, who played wide receiver for the Rhodes football team and wants to work in sports management, said many students apply to colleges but don't follow through. He said he doesn't need to be convinced that postsecondary education is critical to success.
"It's kind of hard to get a job without it," he said.
Rhodes receives a lot of help from outside partners such as
College Now Greater Cleveland
, which bases staff and volunteers in high schools throughout the District.
The District and College Now are part of the
Higher Education Compact of Greater Cleveland
, formed by Mayor Frank G. Jackson to get more CMSD graduates into college. The compact is preparing to launch its annual campaign promoting completion of the
Free Application for Federal Student Aid
, or FAFSA.
An annual report that the compact issued in March shows that while more students are graduating from CMSD schools and are better prepared academically, fewer are applying for financial aid and admission to college. Forrey and others believe that the cost of higher education is a major reason.