Return to Headlines
Digital Arts students dive into "Shark Tank" (photo gallery)
CMSD NEWS BUREAU
12/11/2015
Thursday's first-ever "Shark Tank" competition at
The Cleveland High School for the Digital Arts
featured 14 sophomores pitching products to would-be investors that were as commonplace as automobiles to those more futuristic, like fancy soft-drink powered cell phone chargers.
But the sharks were more like friendly dolphins than fierce predators.
"That's true," said biology teacher Victoria Winter with a laugh. "It's so great to have them here to encourage our student presenters. Some of them were so nervous, but they're 14- and 15-year-olds, after all. I think they really came through in the end."
Shark Tank is the ABC-TV reality television show in which entrepreneurial contestants make business presentations to a panel of investors, known as sharks, some of whom are sarcastic or brutal in their assessment of the contestants business pitches.
The "sharks" who judged the student's presentations Thursday included Marsha Dobrzynski, CEO of the
Center for Arts-Inspired Learning
, which helped founded the Digital Arts high school in 2014.
The other judges were:
• Sean Welch - Partner, Integrity Home Care
• Sarah Belzile - CEO, Phoenix Coffee
• Elizabeth Keegan - Video Game Design Department head, Notre Dame College
• Marty Caden - Department of Planning executive, City of Cleveland
• Carol Thaler - Director of outreach and administration, Great Lakes Biomimicry
The students involved in the Digital Arts competition were selected as the best in their grade in meeting the requirements set by the staff, which meant combining skills from a number of academic subjects and skills learned in biology (biomimicry and research), American history (the Industrial Revolution), and English (persuasive writing and presenting).
The students were not pitching products they had invented, but rather existing inventions from history or the modern era.
Winter said Thursday's Shark Tank event, conceived by fellow teacher Lindsey May, supported the school's interdisciplinary approach to learning.
"As as one of the District's new innovative portfolio network schools, we are a project-based learning school, and every quarter we have one big project that crosses several disciplines – in this case, science, American history and English."
She said the students first researched inventions of the Industrial Revolution, especially those inspired by the natural world, looked for their modern-day equivalents and worked on presenting the material as a pitch to "sell" the idea to an investor, employing their English and public-speaking lessons.
Some of the students supplemented their pitches with a component from either video game design, recording arts, or film production. Other students were on the "set" to film the event for a future presentation.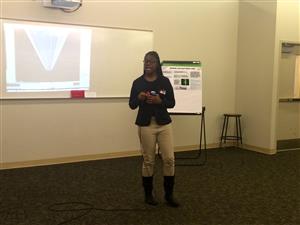 Da'Nira McClary was one of the student presenters who won the judges over immediately as she easily engaged the six sharks with a talk about her product: a prototype of a portable cell-phone charger that turns the sugar from soft drinks or other beverages into extra battery power for your phone. The invention exists, but is not yet in production, she said.
Her prop: A plastic version of the invention that she and classmates had made on the school's 3-D printer.
"I was so freaked out at first, but I was fortunate to have two partners and even though they didn't make it into the final round, we did it as a team," she said after explaining how the British-made invention could help not only individual cell phone users but reduce reliance on fossil fuels for electricity.
"I thought it was so cool that biomimicry could be part of our everyday lives – from the original battery to this new idea," she said.
Biomimicry – human inventors using the engineering or techniques already in use in the natural world – was a touchstone for the entire several-hour competition.
"Northeast Ohio is one of about 30 places in the world looking at how to learn from nature to invent new things," said Thayer of Great Lakes Biomimicry. She said it made perfect sense for a Digital Arts school to be focused on the idea.
"One of the really interesting things about biomimicry is that while people think its just biology, it's a lot more," she said. "Yes, it's biology, but it's also the creative arts, engineering, and business and entrepreneurship.
"All four of those ways of thinking are required to take that leap from what a biological organism does to an actual human invention and one that can go from idea to actual development. That's exactly what these students were doing here today."