Return to Headlines
CEO's student committee continues to grow
CMSD NEWS BUREAU
1/29/2016
CMSD students are guaranteed a voice in their education, and they are exercising that right in larger numbers than ever.

A new high of more than 400 students representing 30 high schools turned out when Chief Executive Officer Eric Gordon's Student Advisory Committee met Friday at Windows on the River.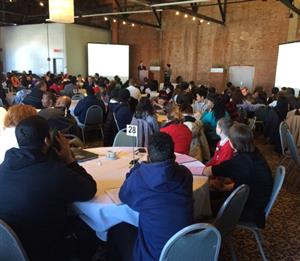 The committee began getting together in December 2013 at a District training center in Bratenahl, but students complained about being spread across two rooms. Now the larger space on the West Bank of The Flats is filling up.
The Cleveland Plan
, a blueprint for education reform that is written into state law, gives CMSD students a say in their education.
As is his custom, Gordon opened the meeting, the second of four this school year, by telling the committee members that they are the only students in the country whose input is guaranteed by state law. He also repeated his promise to carefully weigh their comments and respond.
Though committee membership was already strong, organizers have pushed administrators to ramp it up even more, said Denine Goolsby, executive director of the Humanware program. Humanware oversees the committee and other initiatives designed to make students feel safe and supported.
A ninth-grader at the
John Marshall School of Engineering
said she joined the committee this year to set an example.
"If people can take after what I am doing, there will be a lot more leaders today than there were yesterday," she said.
A freshman at the
Jane Addams Business Careers Center
said he joined for similar reasons.
"I'm trying to get students involved in helping our schools," he said. "They don't know they have a say."
The students make recommendations for improving "conditions for learning," or the culture in the schools. Delegations of up to 16 students per school are also supposed to report to their principals and teachers on "what's working and what's not," Gordon reminded them.
District representatives thanked committee members for
helping to devise incentives
for CMSD's attendance campaign, "
Get 2 School. You Can Make It!
" which
hit its goal for the first semester
.
On Friday, the representatives asked students to enlist their peers in recording videos that promote the campaign on social media. The videos will be entered in a contest that uses the hashtag "Get2School."
The students also submitted ideas for four "pop-up parties" that Radio One wants to present at schools as attendance incentives.