Return to Headlines
CMSD to host 'citywide read' 
CMSD NEWS BUREAU
2/19/2016
In 1938, Lisa Jura's mother put her on a train in Vienna and said goodbye for what proved to be the last time. The 14-year-old Jewish girl was beginning a trip to England, fleeing with thousands of other children aboard the
kindertransport
as the Nazis tightened their grip on Austria.
"Never stop playing," Lisa's mother told her daughter, a child prodigy who would go on to study at the Royal Academy of Music in London and become a concert pianist, "and I will be with you every step of the way."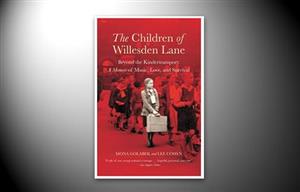 More than three-quarters of a century later, Lisa's daughter, Mona Golabek, will portray her mother and tell Lisa Jura's inspiring story in a one-woman show, "The Children of Willesden Lane," for 5,000 to 6,000 ninth-graders from CMSD and suburban schools. Willesden Lane was the location of the hostel where Lisa spent the war.
Golabek, also a concert pianist, will perform the critically acclaimed show -- by invitation only -- six times March 9-11 at CMSD's East Professional Center. She hopes that students who attend will gain a heightened appreciation for tolerance and learn a lesson that can help them deal with the cruelty and injustice that seem so pervasive in the world today, often in their own neighborhoods.
"If you have something to hang on to in the darkest of times, you're going to find the strength to make it through," she said in a recent telephone interview from her home in Los Angeles. "In my mother's case, it was her music."
Cleveland site for 'citywide read'
Students are preparing are preparing for Golabek's performances by reading
"The Children of Willesden Lane,"
a book that Golabek and Lee Cohen wrote based on her mother's life. This will be the latest in a series of "citywide reads" that have taken place in the United States since 2012 with help from Facing History and Ourselves.
(Learn more in a four-minute video.)
Facing History, which
developed a teacher's guide for the program
, is an international organization that seeks to "engage students of diverse backgrounds in an examination of racism, prejudice, and anti-Semitism in order to promote the development of a more humane and informed citizenry." The organization also created the educational philosophy that is used at CMSD's Facing History New Tech High School.
Cohen has visited cities where the students read the book en masse and marvels at the response.
"They relate to it because of what's going on in their own lives," he said. "There's a really powerful message that kids are getting from this story and Mona's performance."
Cleveland businessman Bob Gries took in "The Pianist of Willesden Lane," a theatrical production based on the book, early last year at the Cleveland Play House. The avid fan of live theater found it to be one of the most moving and emotional performances he had ever witnessed.
Gries, who is Jewish and grew up in Northeast Ohio during the 1930s, is underwriting the East Professional Center performances with several other prominent Clevelanders, including Norma Lerner, Albert and Audrey Ratner and Milton and Tamar Maltz.
Gries hopes Lisa Jura's story will resonate with youths, particularly minority children who may feel excluded from mainstream society.
"It's an important undertaking," he said. "If we can get four, five, six thousand kids to explore the book, I think it will have a great impact on many of them. That's why I'm so excited."
(Read about Mona Golabek's visit to Chicago last year.)
Teachers trained to assist
Mark Swaim-Fox, director of Facing History's Cleveland office, met with CMSD teachers in January at the East Professional Center, presenting strategies and material they can use to make "The Children of Willesden Lane" content more relevant and meaningful to the 3,000 District ninth-graders who are to attend.
For example, he displayed photographs of Jewish youth and families engaged in everyday poses and activities, like those that CMSD students might recognize in their own lives. He played dramatic audio, narrated by Golabek, that describes a determined Lisa practicing the piano at the Royal Academy while bombs rain down in London.
Teachers stood in a circle, holding photographs that formed a timeline from the early to mid-20th Century. Combined, some of the photographs showed Nazi soldiers progressing from benign holiday celebrations to the horror of mass killing; others centered on the atrocities and injustices that occurred during the same era in the United States -- the lynching of a black youth in the South, a ban on interracial marriage in Virginia, immigration restrictions.
Swaim-Fox was joined at the training by Jason Brett, founder and CEO of
MashPlant
, a restricted social-media platform where students can share feelings and projects, in this case centering on themes from "The Children of Willesden Lane."
Golabek welcomes students to MashPlant's "Community of Willesden Lane," with this message: "Together, let's light a fire and create a world without prejudice and intolerance, where every young person is free to pursue his or her dream."
Facing History New Tech didn't limit the reading of the book to ninth-graders. The principal, the staff and the other grades are joining in – particularly fitting for a school that concentrates on social justice and human rights. During advisory periods that follow lunch, students examine the emotions the book evokes.
"We do talk about a lot of tough issues here," said Kimberly Wheeler, the campus coordinator. "This really fits into the curriculum."
Golabek and her family launched the nonprofit Hold On To Your Music Foundation in 2003, a year after her book was published. According to its website, the foundation's goal is to "expand awareness and understanding of the ethical implications of world events such as the Holocaust, and the power of the arts, especially music, to embolden the human spirit in the face of adversity."
Lisa Jura's life will be the subject of both a soon-to-be-announced feature film and a documentary, Golabek said.
The story remains relevant as the United States and other nations grapple with a refugee crisis amid fears for their own safety, said Golabek, who adds that she owes her life to the kindness and acceptance from the British people. She said that under the circumstances, it would be easy for today's youths to succumb to anxiety and prejudice.
"People say we're living in a broken world," she said. "We have to do the good fight. We can never have enough stories to inspire young people to the right path."
Taking on the role of her mother is a challenge, said Golabek, but one she accepts lovingly.
"I have to inhabit her skin, her fears, her joys," she said. "I have to walk like her, talk like her. People ask how do I do it night after night. I say it's a privilege, and it's a purpose."