Return to Headlines
CMSD grads better prepared, staying longer in college, report says
CMSD NEWS BUREAU
3/18/2016
The report notes, however, that post-secondary enrollment continues to lag at a time when some form of it is needed to land a higher paying job. Compact leaders say cost is a major reason why, so the group is studying community scholarship funds in other cities and trying to establish one in Cleveland.
Launched by Mayor Frank G. Jackson in 2011, the Compact consists of CMSD, the city, 16 colleges and universities and more than 40 organizations interested in serving youths.
Since then, the District graduation rate has climbed from 52 percent to a record 66 percent.
The percentages of students graduating with a B average or higher, scoring a college-ready score of 21 or higher on the ACT admissions exam and participating in advanced-placement courses are at their highest points since the Compact began collecting data. And the percentage needing remediation for math and English in college is at a low.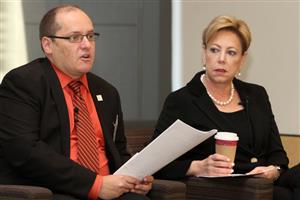 Photo courtesy of City of Cleveland
"We're seeing all the right movement in the readiness data," CMSD Chief Executive Officer Eric Gordon told a crowd gathered in the Cleveland State University Student Center ballroom for the report's release. "Our kids can do this."
Richard Bischoff, vice president for enrollment at Case Western Reserve University, agrees that District students are much better prepared. Bischoff, who was in the audience Friday, said he and others at Case have detected a noticeable improvement in recent years as CMSD has carried out
The Cleveland Plan
, a customized blueprint for education reform in the city.
"That's anecdotal, but we see a difference," he said. "We think we see the impact of the work the District is doing."
According to the report, the percentage of CMSD students going to college within a year of graduating from high school rose from 53 percent to 56 percent in 2014, the most recent year for which data was available. But the increase came after drops the previous two years and remains well short of the Compact's goal of 61 percent to 66 percent by 2017.
Lee Friedman, chief executive officer of
College Now Greater Cleveland
, attributed the disappointing pace to the escalating cost of higher education and the increased availability of jobs – many with limited futures in an era when most occupations require postsecondary education or training. College Now helps students reach and stay in education beyond high school.
She said advocates of higher education must ensure that students continue to view it as a possibility. Compact leaders have examined community models like the
Pittsburgh Promise
and
Say Yes Buffalo
.
The majority of children born into poverty remain at or near the bottom of the income ladder as adults, but their chances of climbing higher improve dramatically if they complete post-secondary education, said the event's guest speaker, David Dodson.
Dodson is
president of MDC
, a North Carolina nonprofit that focuses on removing barriers to opportunity. He praised the Higher Education Compact and joked that he planned to copy "80 percent of what I've heard here and take it home."
"The work you are doing is the work of liberation," he said. "It is nothing short of that."