Return to Headlines
Students learn to take charge of their education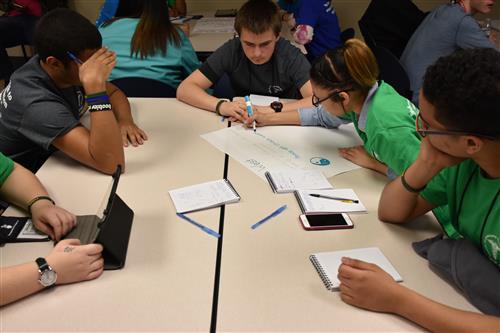 CMSD NEWS BUREAU
3/21/2016
A thousand high school students from CMSD and 14 other districts came together Friday to learn how to take charge of their education.
It wasn't a revolution in the strict sense, but what the teenagers were introduced to during a workshop at Cuyahoga Community College's Metro Campus could be revolutionary, proponents say.
The students, who traveled from as far as Marietta, participated in the region's first mass exercise in the
Self-Organized Learning Environment
method.
In practicing SOLE, students break into small groups and use the Internet to dissect a broad, often abstract, question. Teachers act as facilitators instead of lecturers. The objective: give teachers and schools a low-cost way to engage students more deeply while developing their ability to communicate, collaborate and apply critical thinking – all skills valued in the modern economy.
"This can revolutionize education," said Joe Hudson of the DBJ Foundation, formerly the David H. and Barbara M. Jacobs Foundation, which is trying to spread awareness of SOLE. "We believe this keeps the love of learning alive."
Jeff McClellan, the founding principal of CMSD's unique
MC²STEM High School
, has been leading the drive for more than a year as an executive on loan to and paid by the foundation. He said he works with teachers and schools, speaks at education conferences and does "pretty much anything people ask me to do as it relates to the ability to implement this."
Education researcher Sugata Mitra hit on the strategy after giving impoverished children in India access to a computer and watching them quickly learn to navigate the Internet. (
Watch Sugata Mitra on TedTalks. He received the $1 million 2013 Ted Prize, awarded for a speaker with a "creative, bold vision to spark global change."
)
James Stanfield, another observer at the Tri-C event, is an education lecturer at England's Newcastle University, home of the movement's hub, SOLE Central.
Stanfield said SOLE takes the "big global brain" of the Internet and "brings it into the classroom in a constructive way." He said researchers hope to see whether the consuming style of inquiry improves behavior in the classroom.
SOLE also known as the "School in the Cloud" has followers around the world. For his part, McClellan has launched an online community
(solecle.com)
– with 1,000 members representing all seven continents – that shares questions and information.
Friday's gathering posed the question: "What is in your heart and mind about the ownership of power in your community?" McClellan said the question might translate to "What do you see wrong in your community and what would you do about it?" but wording it that way would have steered the conversation.
The largest bloc of students at the event came from CMSD, many through their participation in Chief Executive Officer Eric Gordon's
Student Advisory Committee.
Tahneye Smith and Darnae Phillips of New Tech East, already a project-based school that is part of the New Tech Network, said their group concentrated on the problem of gang violence and how to solve it. The girls said the student-run style of learning took some getting used to, but they approved.
"It's more interesting," Tahneye said. "It gets your attention."
Maria Carlson, principal at Collinwood High, another New Tech academy, said she would confer with the students she accompanied to Tri-C before deciding whether SOLE was a fit. But she sounded intrigued.
"It definitely aligns with the way we teach in a New Tech school," she said.
McClellan said teachers can adopt SOLE on their own; they don't have to be in a school based on the theme.
"It's a strategy that can be used in any classroom environment," he said. "A teacher can do SOLE in the existing classroom without any other structures in place."