Return to Headlines
Summer school programs under way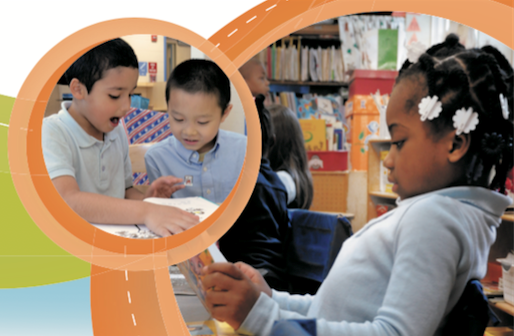 CMSD NEWS BUREAU
6/6/2016
While some CMSD students and teachers will spend the beginning of summer vacation unwinding, others will be back in classrooms or at home working to meet their academic goals.
The Elementary Summer Reading Academy and the high school credit recovery programs began Monday at 12 schools across the District.
Students in kindergarten through third grade who are struggling with reading will hone their skills in the six-week ESRA, which is designed to help them meet the Ohio Third Grade Reading Guarantee.
"This is designed as an intervention, meaning we're laser-focused on reading strategies, reading acquisition and ensuring that our scholars don't have a summer gap," said Karen Thompson, CMSD deputy chief of curriculum and instruction.
Thompson said the annual academy has been refined to emphasize technology-based learning, including using using iPads in daily lessons. This year is also the first time that tutors from Cleveland State University will be helping out with the program.
Parents and students will receive frequent updates on reading progress. Parents will receive biweekly status reports, and students get feedback as part of their Reading Intervention Monitoring Plan.
Third-graders will take one or two state-approved reading assessments to determine whether they can move on to fourth grade.
This year's ESRA enrollment is about 3,500, which is up a few hundred from last summer, Thompson said. The program runs until July 15 at eight schools: Almira, George Washington Carver STEM, East Clark, Mound STEM, Patrick Henry, Paul L. Dunbar, Robert H. Jamison, Robinson G. Jones and Thomas Jefferson International Newcomers Academy.
High school students will also be hard at work starting this week to make up classes they either didn't pass or that they want to repeat to boost their GPA.
The high school credit recovery classes are based at John Adams High School, Jane Addams, Business Careers Center, John Marshall Campus and Max S. Hayes High School. But students aren't required to be in the classroom every day, thanks to an approach that lets them complete coursework online. Students must still meet regularly with teachers and counselors to take tests and discuss their progress.
"We found that the biggest barrier was students were missing job opportunities or summer internships," Thompson said. "So we wanted something that could be flexible and nimble to allow them to a stay on track but also not miss out on an enriching opportunity."
Thompson expects enrollment to total 300 to 400 high school students per site.
Another high school summer program, the Ohio Graduation Test bootcamp, got under way last wee.
High school seniors at the bootcamp will prepare for sections of state tests they need to pass before they can graduate. The program runs until June 10, followed by OGTs scheduled for June 13-17.
Seniors who complete summer school and meet graduation requirements will be recognized at a commencement ceremony later this summer. Graduation is scheduled for 10 a.m. Aug. 6 at the East Professional Center.
Some of the sites hosting summer school will also be bustling with other activities.
Schools that partner with community organizations as part of the District's "wraparound" strategy will host programs through groups including the Boys and Girls Clubs and the YMCA, Thompson said.
"The schools are really becoming hubs for summer engagement, which is exciting," Thompson said.
Another perk of the summer school programs is that they give assistant principals a chance to take the reins of their school for a short time and on a smaller scale.
Jane Addams Business Careers Center Assistant Principal Sophronia Hairston is overseeing the summer school programs at her school. Hairston said she approaches summer school with a sense of urgency and commitment to keeping students motivated, especially those working toward end-of-summer summer graduation.
"We have to be about business," Hairston said. "Because of the time period, you have to stay focused and keep the kids focused."