Return to Headlines
Vigil honors Orlando shooting victims (Video)
CMSD NEWS BUREAU
6/23/2016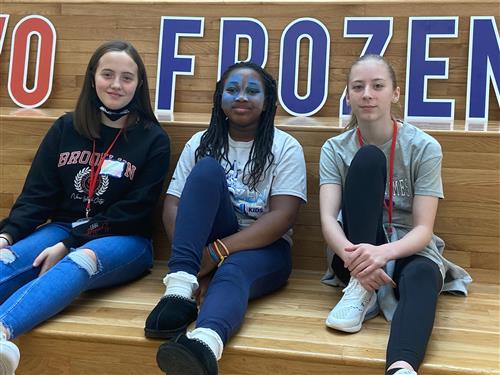 Ten days after a gunman opened fire on a crowd inside a gay nightclub in Orlando, national attention to the massacre is beginning to fade as news media shift their focus to other stories.
But a group of CMSD teachers and students are determined to make sure their community doesn't forget the tragedy and how deeply it affected the LGBTQ community.
A total of 49 people died June 12 at the Pulse nightclub. About the same number of people gathered Wednesday night outside Facing History New Tech High School for an emotional candlelight vigil. Some participants stood on a platform draped in rainbow flags to share poems and songs; others spoke about gun control and the power of hope.
The vigil attracted several CMSD teachers and students who are members of the LGBTQ community, along with families and children from the surrounding community.
Skyler Edge, a recent FHNT graduate who is transgender and pansexual, said news of the shooting hit him particularly hard. Edge recited a poem he wrote about the fear he felt for himself, his boyfriend and the entire LGBTQ community.
"A lot of people have already forgotten about it or stopped talking about it, but the community is still in healing. And with all of us still mourning, it's heartbreaking to see that everyone forgets so quickly," he said. "I feel like it's important that we have this event because it helps us remember that it involves all of us, and this is not just something that we can forget about in a week or two."
Community organizations also came out to show their support, including representatives from the Northeast Ohio Gay Lesbian and Straight Education Network and God before Guns.
Jeff Bixby, executive director of Northeast Ohio GLSEN, evoked Harvey Milk in his speech, reading inspiring words from the gay Californian politician who was assassinated in 1978.
"[Milk] had hope, and he believed that communities coming together would create positive change," Bixby said. "Not only in Orlando, but here and in other places around the country, people have come together to comfort each other and to look for hope."
Melissa Sawyer, a teacher from the Martin Luther King Jr. Career Campus, recited a poem she wrote about the importance of support in times of tragedy.
"Let us all guard each other from hate," she said. "My pulse is tired of quickening when I hold my girlfriend's hand in public. It's going to be utterly exhausted from the threat of death in our once-safe space after the senseless loss of 49 people practicing their right to pursue happiness."
Sawyer said she came to the vigil not knowing what to expect. She was blown away by the atmosphere of inclusion and support.
"Coming almost as an outsider because I teach at a different school, it's just really awesome to see the connection that the students have with the teachers and all the people that are here," Sawyer said.
That connection is no accident. The curriculum at FHNT is rooted in diversity and human rights, with students studying concepts like social justice and prejudice to help them connect history to the present. The vigil was organized by FHNT teacher Miriam Giardina, who acts as the advisor to the school's Gay Straight Alliance Club.
As the vigil came to a close, participants lighted candles that each had the name of a person killed in the Orlando massacre.
The attendees were encouraged to share reflections on posters taped to the school doors. The group scrawled messages of fear and violence, of tolerance and love.
"Peace starts with tolerance -- love your neighbor," one message said.
"All I think is that it could have been me," said another. "Now is the time to make a difference, and love."