Return to Headlines
Browns break ground on third field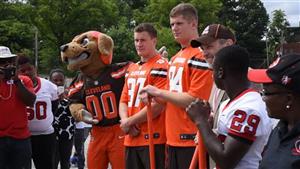 CMSD NEWS BUREAU
6/29/2016
The Cleveland Browns broke ground Wednesday on the third of five synthetic-turf football fields the team will install for CMSD.

The field at Bump Taylor Stadium will be completed in time for the 2016 season. Glenville High School 's Tarblooders and the John Hay Campus Hornets will play home games there.

CMSD shifted the schools' home games to the city-owned Collinwood Athletic Complex last year because concrete bleachers at Bump Taylor were in poor condition. The bleachers are to be rehabilitated before the teams begin play.

"We get to play on our home field, finally," said Adrien Grant, a senior offensive and defensive lineman for Glenville. "Having a new field, playing here, it's going to be sweet."

All 10 Senate Athletic League teams will share the fields. Soccer teams and youth football teams also will play there.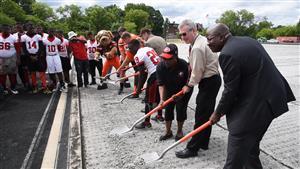 In
announcing the donation last month,
Browns owners Jimmy and Dee Haslam said they were moved by a connection that CMSD Chief Executive Officer Eric Gordon had made between participation in extracurricular activities and academic success.
District Chief Operating Officer Patrick Zohn echoed that theme Wednesday. He said football teaches players skills and values like teamwork and resilience.
"What the Haslams are providing in five different locations is a classroom," Zohn said. "This is a classroom. Don't let anyone tell you it isn't."
Two Browns rookies – linebacker Carl Nassib and tight end Seth DeValve -- addressed Grant and his teammates. Football, Nassib said, "can take you places. It can teach you life skills."
The groundbreaking was ceremonial because work was already under way. The Browns previously broke ground on fields at
John F. Kennedy
and
James Ford Rhodes
high schools and will finish both of those in time for the season as well.
The team also will install fields at John Adams and John Marshall high schools, but that work will not come until at least next year. The District has to identify funding sources to replace stands and other facilities at John Marshall's stadium and build new at John Adams, which for now has only vacant land.