Return to Headlines
Looking beyond the report card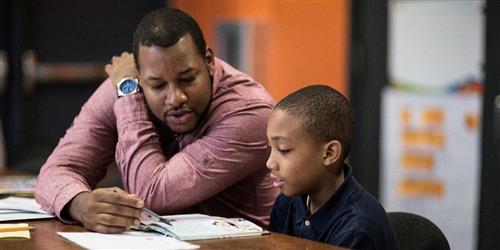 CMSD NEWS BUREAU
9/28/2016
State report cards tell only part of the story. Letter grades don't capture the change in school culture that educators say must improve so academic achievement can follow.
"Measuring Success Behind the Numbers," a free program and panel discussion scheduled for 4 p.m. Thursday at the Idea Center in Playhouse Square, will attempt to show how CMSD schools are changing their cultures, making a difference for kids and setting the stage for growth.
For information and tickets go here.
The Cleveland Transformation Alliance and Civic Commons ideastream are co-sponsoring the event, which comes two weeks after the release of new report cards and a marked decrease in ratings for CMSD and districts across the state. The alliance is an independent watchdog that monitors progress under
The Cleveland Plan
, a blueprint for education reform in the city.
"What we're trying to do is let people know what's happening on the ground," said Piet van Lier, executive director of the Alliance. "We're highlighting stories about the foundation that's being put in place to make sure more Cleveland students can be part of higher-quality learning environments. We're hoping that people who attend our event with help us tell the story."
"Conditions for learning" surveys, which students complete three times a year, show large majorities of students feel safe, respected and supported in their schools and find the academic work challenging. The surveys measure the effect of CMSD's sweeping "Humanware" program, which teaches and promotes the elements of a good climate.
But changing the culture also requires steps like making parents feel welcome and forging partnerships with outside groups and institutions that bring extra resources.
The program at the Idea Center will feature three "storytellers": Wade Park Principal Lee Buddy Jr., Fullerton School parent Larry Bailey and Meiyah Hill, a ninth-grader at the John Hay Campus.
Buddy has helped to dramatically increase Wade Park's community partners, who now number about 40. A roster of names that include at least a half-dozen churches, NASA, the Cleveland Clinic, University Hospitals and Cuyahoga Community College help with needs such as tutoring, parent workshops, school supplies and technology.
The nearby Lexington-Bell Community Center tutors students in kindergarten through fifth grade in math and reading.
The Greater Cleveland Neighborhood Centers Association obtained a federal grant to pay for the tutoring, which is provided both in school and at the center. The grant, which dates to before Buddy's arrival, also pays for 10 weeks of work with America SCORES Cleveland, which combines poetry and soccer to promote strong bodies, mind and character.
Lee DeAngelis, director of support services for the Neighborhood Centers Association, compared the support to the broader "community wraparound" services organized at 25 other CMSD schools by coordinators hired through the United Way.
"It's all about supporting the school," he said.
Partners have helped pay for Wade Park student uniforms that include sweater vests and ties. Students distinguished by those uniforms were among audience members asking questions of Chief Executive Officer Eric Gordon after his recent State of the Schools address.
Buddy and staff have developed a corps of 40 student ambassadors – about 10 percent of the enrollment – who represent the school.
Ambassadors, who are selected based on grades and behavior, follow the "Wade Park Way," a code of courtesy, respect and obedience. They also prepare for their future by becoming part of what Buddy calls a "leadership pipeline."
Tanesa Madden-Stewart runs the school's planning center, where students are sent as an alternative to suspension. The centers, which are in use across the District, give students a place to reflect on their behavior and how to change it.
Madden-Stewart, who has been at the school for about eight years, sees three to five students a day. She views herself as part of a support system that appears to be working.
"I have seen the culture here change tremendously," she said. "This is the quietest it's ever been."