Return to Headlines
Teachers help students process presidential election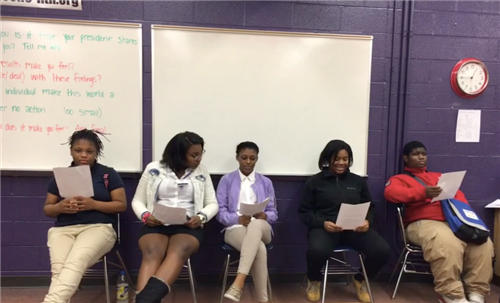 CMSD NEWS BUREAU
12/7/2016
In the wake of a presidential election that left many stunned, educators across the country grappled with how to address students and their reactions to the divisive results. In CMSD schools, teachers mobilized quickly, in many cases scrapping lesson plans to hold discussions and give students a space to process what happened.
The morning after Election Day, Chief Executive Officer Eric Gordon sent an email to all CMSD teachers, offering support and guidance. Gordon encouraged teachers to confront the challenge through the lens of social and emotional learning, which teaches students to integrate traits like empathy, self-awareness and responsible decision-making into daily tasks and challenges.
"It is not our jobs to tell students what is right or wrong about our presidential election or to tell students what they should or should not believe or feel," Gordon said. "However, it is our job to help students think through the complexities of this very contentious election and its outcome in a way that helps each student manage his or her own feelings and beliefs and in ways that create safe spaces for our students to talk about and think through their reactions."
Teachers confront students questions, fears
Many teachers say emotions ran high in their schools after Donald Trump was elected the next president. Children brought forth concerns about how potential new policies could affect them and their families. Much of the anxiety came from minority students, who account for about 85 percent of CMSD's enrollment.
At George Washington Carver School, teacher Shelby Kammer and her students were watching Hillary Clinton's concession speech when one boy called her over. Kammer knelt down beside him and the boy asked her whether he was going to have to be a slave now that Trump had been elected. Kammer was floored.
She assured him he would not, but she and her co-teacher worked together to provide a safe space for students to express their fears, however implausible.
"We kept the focus on the importance of getting a good education so they can grow up and bring the change they desire," Kammer said. "This seemed to help a little."
Other teachers recalled similar reactions from their students.
Catherine Smith, a fourth-grade teacher at Alfred A. Benesch School, recounted telling her students when they entered her room that day: "I know you have feelings about the election, and that's alright. What I want you to know is I'll do everything in my ability to make sure you feel safe."
To help her students cope with their emotions, Smith assigned her students to write letters to teachers or politicians to express how they felt about the election.
On the West Side, at the Newton D. Baker School of the Arts, teachers faced a diverse set of reactions.
Social studies teacher Tamara Blair said many of her students were "pretty stressed out." Some said they supported Trump's presidency or that they thought he deserved a chance to succeed. But some Hispanic children feared their parents would be deported or that people from their cultures would no longer be represented by the government.
"I just made sure that all students got to voice their opinion, and I told them that is what America is based on," Blair said.
Despite the range of viewpoints, eighth-grader Fernando Evans said the discussion in Blair's class was eye-opening rather than divisive.
"Discussing it and just laying everything out was good, and hearing everybody come from different point of views," Evans said.
Blair said her sixth-graders were just plain angry. They directed that anger at their family members who didn't vote.
Blair pointed to recent class material -- involving the Civil Rights Movement -- as the basis for this reaction. The class had just learned about the long, difficult and sometimes deadly fight for voting rights for African-Americans and other minorities, Blair said. Her students were baffled that some of their parents wouldn't take advantage of their hard-fought right.
High school students react
For high school teachers, addressing teens' reactions was different, but equally challenging, they said. Teachers described fear and anger from some students but sensed apathy among many others.
At East Tech High School in Aaron Hall's 11th-grade U.S. Government classroom, the tone was one of stunned surprise. Students had spent weeks closely following the presidential race as part of their classwork, he said, and all signs had pointed to a Clinton win.
"We studied this, we analyzed this, and we did a lot of research," Hall said. "We had a lot of evidence to support that Hillary was going to win."
Hall's students, like political analysts and pollsters across the nation, were stunned to see their meticulously calculated predictions proven wrong.
Hall altered his lesson plans so students could analyze the results. Pulling up the Ohio electoral map, nearly all red with a few small blue patches, sparked a discussion about the differences between rural and urban voters. They reviewed concepts like checks and balances, the role of Congress and how much power the president really has -- textbook lessons suddenly becoming more real to them.
Hall said he hoped his lessons encouraged students to get involved in their communities and the political process.
"The last thing that I would want a student to feel is, 'I don't have a voice in this, or my thought process doesn't contribute to the overall outcome of the election,'" Hall said. "Civic engagement -- that's what we're trying to inspire here."
International students feel uneasy
For CMSD's large population of immigrant and refugee students at the Thomas Jefferson International Newcomers Academy, the election brought a different level of anxiety and confusion, teachers say. The 700-plus students who attend the school come from more than 45 different countries and have varying knowledge about the U.S. government and electoral process.
Social studies teacher Terrence Barry says he was overwhelmed with questions from students about their status in the country and what lies ahead for their families. A Syrian refugee student told his teachers he was worried that nobody else from his country would be able to enter the United States. A student from Iraq skipped school that day out of fear.
"For our kids, the election has real implications," Barry said. "A lot of them come from places that might have dictators or a civil society that is corrupt."
To ease their worries, Barry said he reviewed the U.S. Constitution, explained the separation of powers and discussed presidential term limits. He also worked to quash unfounded rumors students heard on social media or fake news sites.
He said his students left that day a bit calmer and with a newfound appreciation for the U.S. Constitution. The boy who had been afraid to return to school came back after speaking with teachers and guidance counselors.
"We assured him and all our students that their lives will continue on as normal, even though, in a democratic society, sometimes the candidate that you don't want wins," Barry said.