Return to Headlines
Work starts on six schools
CMSD NEWS BUREAU
5/17/2017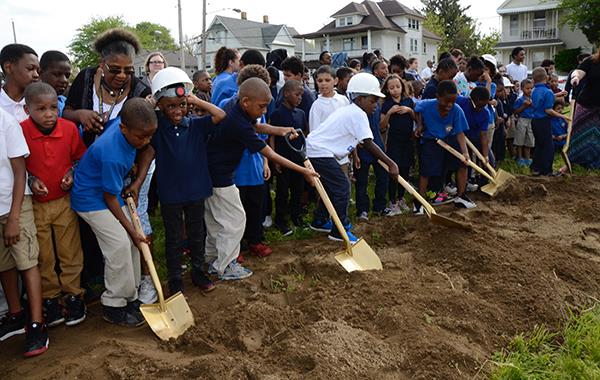 CMSD is beginning construction on six new schools, the first of 20 to 22 buildings made possible by a bond issue that voters approved in 2014.

By the end of the month, work should be under way on replacements for Fullerton, Sunbeam, Oliver H. Perry and H. Barbara Booker schools. The District also will start building elementary schools on the site of the former William Rainey Harper School, which the District closed in 2010 and later demolished, and on the grounds of Whitney M. Young Leadership Academy.

No students will be displaced during the projects, which should be ready before or during the 2018-19 school year. Replacements for Sunbeam and Oliver H. Perry will rise on open portions of their current property; The successors to Fullerton and H. Barbara Booker will be located on former school sites.

The new buildings will each hold up to 450 students. The state will pay slightly more than two-thirds of the construction costs.

Sunbeam's replacement, like the existing school, will have space set aside for medically fragile students and include a larger therapy pool. Walking and bicycle trails on the site will connect to trails on neighboring property.

CMSD is building a school on the former William Rainey Harper site in response to demand in the Old Brooklyn neighborhood. The number of school-age children in the neighborhood has remained steady or even increased slightly, said Jeff Verespej, director of the nonprofit Old Brooklyn Community Development Corp.
The construction begins the seventh of nine stages in a modernization program that started in 2002. Since then, the District has built and renovated more than 40 schools.
The latest wave also will include replacements for Waverly School and the John F. Kennedy Campus and a new West Side building that will hold two small high schools.
John F. Kennedy, home to JFK E³agle Academy and JFK PACT high schools, will move from its current site on Harvard Avenue to a part of Frederick Douglass Park obtained from the city in a land swap. The West Side building will occupy the former site of Max S. Hayes High School, which moved to a new building at West 65th Street and Clark Avenue two years ago.
Work on Waverly's replacement is expected to begin this summer and take a year to finish. Construction of the larger high school buildings will begin next year and be finished in 2020.
Besides new buildings, the bond issue also is allowing the District to remodel 20 to 23 schools.