Return to Headlines
CEO honored as finalist for Top Urban School Leader
The Council of the Great City Schools named CMSD's Chief Executive Officer, Eric S. Gordon, as one of the top 10 big-city school superintendents when it presented the annual Richard R.Greene Award--the nation's top prize in urban education leadership.
CGCS recognized Gordon and nine other finalists on October 18 at the Council's 56th Annual Fall Conference in Indianapolis, where urban educators shared best practices and gathered in recognition of the top city school leaders in the nation.
Board Chair Denise Link shared news of Gordon's selection at the November school board meeting, and congratulated the CEO for having distinguished himself nationally so early in his superintendency.
"It's wonderful to see Eric Gordon's name among the best of the big-city superintendents, especially in his first year as our CEO," said Link. "Our Academic Transformation Plan and our passage of The Cleveland Plan this year brought national attention to our reforms, but we are thrilled to see our CEO getting the attention he deserves for leading this work."
The Richard R. Green Award is the namesake of the first African American chancellor of the New York City school system. The top urban leadership award is presented to a superintendent and board member in alternative years. CMSD's Board Chair, Denise Link, previously recognized by the Council for her leadership as Board Chair, said it is an honor to be recognized at this level by the Council of Great City Schools.
"Richard R. Green is remembered for his life-long devotion to the success of children, and anyone who has ever met Eric Gordon knows him to have that same level of commitment to the children of Cleveland," said Link. "What the CEO has done to inspire people throughout city to invest in student success is in the spirit of Dr.Green, who always said, 'If you believe it, you can achieve it. If it is to be, it's up to me'."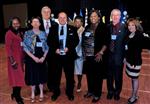 CEO Eric S. Gordon (center) was honored in October as one of the Top 10 urban school leaders in the nation at the Council of Great City Schools Annual Conference in Indianapolis. Gordon is flanked by CMSD staff attending the conference (L-R): Michelle Pierre-Farid, Denise Link, John Scanlan, Denine Goolsby, Christine Fowler-Mack, Ed Weber and Roseann Canfora.