Return to Headlines
Displaced Puerto Rican families start new lives in Cleveland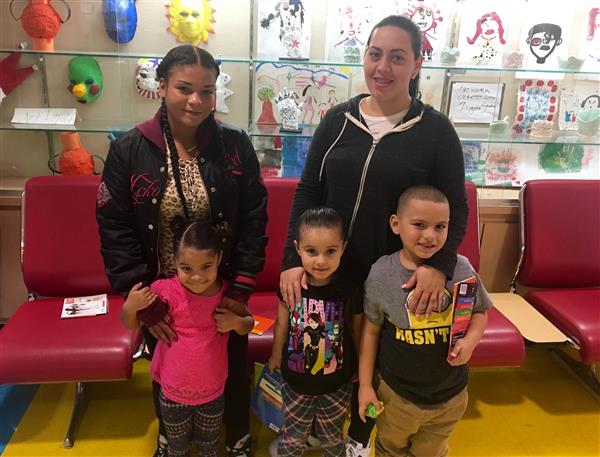 Two mothers brought their children to the Thomas Jefferson Campus to enroll their children in CMSD after they traveled to Cleveland from the storm-battered island of Puerto Rico.
CMSD NEWS BUREAU
11/2/2017
The first night that Hurricane Maria tore through Puerto Rico was the last night that Tenisha Marie Bennett Rodriguez and her 5-year-old daughter spent in their home.
It took only one night of heavy rain and violent winds to carve a path of destruction through Rodriguez's hometown of Quebradillas. The storm ripped off half of the metal roof that covered her house, filling every room with floodwater and leaving almost all of her belongings -- pictures, clothes, toys -- in ruins.
The morning she left, Rodriguez waded around her home through calf-high water, stuffing anything she could salvage into a backpack. She slung the bag over her shoulder and lifted her daughter, Melody, onto her back. Rodriguez opened the door and began a journey through streets of murky water toward her grandmother's house.
Tears filled Rodriguez' eyes as she described that day and the brutal month that followed. She and her daughter are in Cleveland now, and Melody is one of more than 120 children who have left the storm-battered island and been enrolled in CMSD schools.
For Rodriguez, the decision to leave was painful, but the conditions she and her daughter lived in after the storm were uninhabitable.
"We were living like cave people or something," she said. "There was no light, no water, no gas."
The storm first made landfall on Sept. 20, and Rodriguez left the island in the middle of October. She made the journey with her friend, Keishla Marie Marichal Delpilar, and Delpilar's 5-year-old son and 4-year-old daughter.
They decided on Cleveland, where Delpilar's two brothers live. This meant leaving behind parents, grandparents, friends and most of the belongings they still had.
After the two families arrived in Cleveland, they settled into a one-bedroom apartment and took a bus to Thomas Jefferson International Newcomers Academy to sign up for school. Thomas Jefferson is home to CMSD's PreK-12 school for immigrants, refugees and other international newcomers and also houses the Multilingual Multicultural Education Office and Welcome Center.
It's where Puerto Rican families like Delpilar's and Rodriguez's have been showing up with regularity since another, less destructive storm, Hurricane Irma, skirted the edge of the island in early September, according to Senaida Perez, CMSD's family engagement and student support coordinator at the Multilingual Multicultural Education Office and Welcome Center.
The biggest wave of families came at the beginning of October after Hurricane Maria hit, and there are now over 120 Puerto Rican students who were displaced by the storms attending CMSD schools. Most of them come with almost nothing, other than the clothes on their backs and what they can fit into a bag.
"When you have a bunch of kids in the dark with no water, you run," said Perez.
Perez is part of a team that has been helping the families register their children for school and referring them to providers for healthcare, housing, jobs and clothing. Days after the storm hit, CMSD Chief Executive Officer Eric Gordon mobilized employees from the District's school choice, multilingual and multicultural, Project ACT and Humanware departments to prepare for the new arrivals. They developed a protocol, called the Displaced Students Action Plan, that has been guiding the process.
Surviving the storm
Economists are predicting an exodus of up to 200,000 people out of Puerto Rico in the next few months, which can make getting a plane difficult. Delpilar said her original flight, scheduled to leave on Oct. 17, was cancelled. She was able to get on another plane after she pleaded with the airline and explained that her daughter, Kenisha, needed to get to the United States because of her heart condition.
Kenisha takes medication that must be kept cold, Delpilar said. But the storm knocked out electricity in their entire town, which meant that Kenisha's medicine warmed up and went bad. The girl went weeks without her medicine, but she was able to get a new prescription after arriving in Cleveland.
"Thank God, she was OK," Delipilar said. "We just tried to keep her calm."
The power loss, which many people in Puerto Rico are still facing, was one of many obstacles the storm presented. They also struggled with a lack of food, clean water and gas, along with living in fear that they would be robbed or burglarized by looters.
"The situation we were in was not livable," Rodriguez said.
Rodriguez described waiting in line for 15 hours to get gas, which was limited to $10 of fuel per person. Even accessing her own money was a struggle. At the only ATM in town, at Walgreens, she waited in line for 10 hours only to be told she could withdraw just $40 per day.
Water was scarce, especially in the immediate aftermath. Delpilar stockpiled water bottles before Hurricane Irma, but the supply didn't last long. Any water that was for sale cost at least double the price.
"To clean ourselves, you had to fill up empty containers and pour it on your body," Delpilar said. "We would only use about three or four cups of water. You're still not really wet and you're trying to put soap on. It was hard."
Finding food wasn't easy, either. Most days, they ate one meal, something that weighed heavily on Rodriguez as a mother.
"You don't want to tell your child you don't have something," Rodriguez said. "That's hard to say."
The mutual suffering brought Delpilar and her community closer. One neighbor brought her coffee, and Delpilar's mother, one of the few people in the area who had working gas, cooked meals for all four families who lived in their unit.
"I was living in an area with mostly single moms, and we helped each other," Delpilar said. "There were neighbors who I didn't talk to before, and we all came together and became really close."
Perez has seen firsthand the trauma that both parents and children bring with them. One girl, apparently afraid of shortage, has been carrying around the same full, unopened water bottle since her first day of school. Another child's mother reported that her son began harming himself after the move.
Perez has connected those children and many others -- including parents -- with mental health services. As part of the Displaced Student Action Plan, all educators in the District recieved a toolkit that covers topics like "Creating Sanctuary in Schools" and "Helping Traumatized Children Learn."
"My job is to get parents engaged with their child's school, but right now, I'm focusing on helping them meet their basic needs," Perez said.
Making a new home
After all they endured, Delpilar and Rodriguez consider themselves lucky to be off the island. Before they arrived in Cleveland, they communicated with the Spanish American Committee, a nonprofit agency that helps low-income Hispanic families in Cleveland become self-sufficient.
The committee promised them an apartment with a month of free rent, clothes and other necessities like shampoo and toothbrushes. All five are currently sharing one room, but they're planning to move to a two-bedroom apartment in the near future.
"I'm grateful to be here and just trying to live one day at a time," Rodriguez said.
The women say they're just trying to get back on their feet. Back home, Rodriguez was a nail technician and hairstylist and Delipilar worked with her mother in the local post office. Now, they said they'll take almost any job they can get until they become financially stable.
"I just want to work so that my kids can feel stability and I can give them everything they need," Delpilar said.
This is another area where CMSD is lending a hand. Perez has used her connections in the community to refer parents to potential employers. At least two parents have told her they were offered job interviews from the referrals.
CMSD also provides donated uniforms and a set of school supplies for each newcomer when they're enrolled. Perez registers families who don't have a permanent home with Project ACT, a District department that serves homeless students.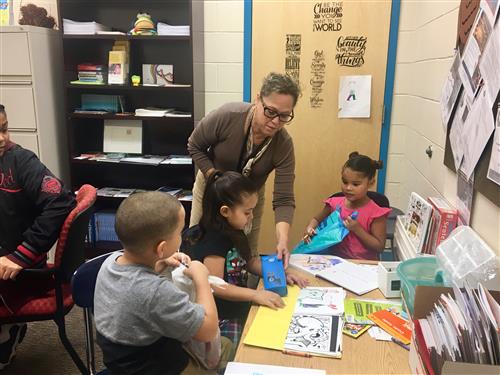 CMSD's Senaida Perez hands out school supplies to children who just arrived in Cleveland from Puerto Rico.
Housing is another major obstacle for these newcomers. Many families end up in Cleveland because they have family or friends here. But often, those family members or friends live in public housing, senior homes or rentals that can't accomodate extra people.
Romanita Vargas is executive director of the Spanish American Committee. While the agency was able to secure housing for Delpilar and Rodriguez, Vargas said they were the exception to the norm.
For the more than 65 families displaced from Puerto Rico that the Committee has worked with since the hurricane, finding a place to live is difficult, especially on the West Side, which is where most of Cleveland's Hispanic population lives and where many Hispanic organizations that provide support and services are based.
But Vargas and Perez aren't discouraged. They're both part of a collaborative of community organizations that has been working together to pool their resources to help the new arrivals get situated. The group has planned a meeting at Cuyahoga Community College to create a directory of services and supports for families.
As for Delpilar, her main focus is caring for Kenisha, who has an appointment scheduled with a cardiologist.
The families are also trying to get used to the colder weather, which is a drastic change from their warm, sunny paradise.
"Everyone in Cleveland is so nice," Delpilar said. "It's just a little cold."