Return to Headlines
MC2STEM teacher wins Excellence in Teaching Diversity Award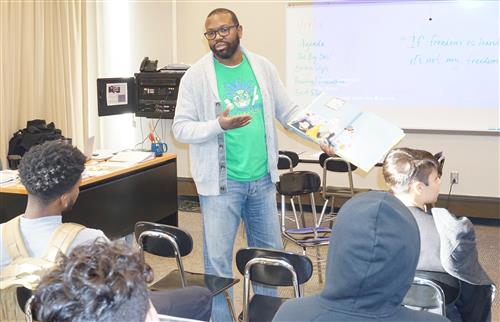 Damien Johnson, the recipient of the 2018 Excellence in Teaching Diversity Award, uses a teaching as activism philosophy in his American government course.
CMSD NEWS BUREAU
1/19/2018
Some activists use methods like protests and sit-ins as a catalyst for change in their communities. Others, like Damien Johnson, teach.
Johnson is an American government teacher for juniors at MC2STEM High School's campus at Cleveland State University. His teaching-as-activism approach to helping students connect with concepts of diversity, civil rights and community engagement has earned him the 2018 Excellence in Teaching Diversity Award from the Ohio Civil Rights Commission. The annual award is given to an Ohio grade 6-12 teacher who demonstrates exemplary dedication to diversity and teaching the lessons of civil rights in the classroom.
MC2STEM Principal Feowyn Mackinnon Marshment nominated Johnson, who she says is "the most passionate teacher I have ever encountered."
"If you were to ask any one of the students he has had over the past 12 years, I believe they would say the same thing," Mackinnon Marshment said.
"As a government teacher, Damien has a natural forum to help students explore diversity, civil rights and civic engagement, but his teaching expands far beyond what can be found in a textbook," she said.
For Johnson, who was the founding social studies teacher when MC2STEM opened in 2008, words like "diversity" and "civil rights" are more than buzzwords. He approaches lessons about government from the lens of citizens, rather than legislators and politicians, with the goal of helping students identify how government has a direct impact on their lives.
"A lot of our legislation is based on socioeconomics, race and ideologies of diversity," Johnson said "I incorporate those ideas to help students get a firm understanding of that and then ask, 'Now that you have that understanding, what are you going to do about it?"'
One thing Johnson hopes they will do is vote. While most of his students are under 18, he doesn't let that stop him from keeping them politically engaged.
During the Cleveland mayoral race last fall, Johnson's classes took a deep dive into the election by comparing the candidates' platforms, watching debates and reading news articles. He encouraged the students to share what they learned with their family members and other community members who were eligible to vote.
"Any way that we can make the democratic process more palatable and easier to understand, that's what we do," he said.
He also uses projects to make certain topics more relatable. For example, when the class was learning about the U.S. Constitution and Bill of Rights at the beginning of the school year, Johnson worked with each of his four classes to create individual "constitutions" that outline students' rights in the classroom. The posters, which list items including "the right to defend our own opinion" and "the right to ask questions," now hang on the back wall of the classroom.
Johnson has a unique rapport with his students, which he credits partly to the fact that he, like most of his students, grew up in Cleveland.
"It makes it easy for me to identify with what they're going through -- issues they're having in their neighborhoods, on the streets and the challenges they face when they're not here."
One of Johnson's students, Alfonso, said he appreciates his teacher's candor about issues like race and racism.
"There's a lot of African-American kids that go to school here, so that type of discussion is very needed," Alfonso said.
He said Johnson has changed the way he views the impact that history has on the present.
"He's given me a different perception on why our country is the way it is and how history has led us here," Alfonso said.
Another student praised Johnson's use of arts and culture in his lessons, including one class period spent listening to music from the civil rights era and discussing its impact.
Johnson incorporates cultural elements on top of the information presented in textbooks to create a well-rounded understanding of the material.
"My objective is just to make sure that they understand," he said. "If that understanding comes from me, great, but if it comes from a song or a poem, that's great, too."
The Ohio Civil Rights Commission will present Johnson with the award during a ceremony on Feb. 2 in Columbus.
Have a story idea for the CMSD News Bureau? Email it to newstips@clevelandmetroschools.org.