Return to Headlines
Davis hosts federal administrator, other maritime schools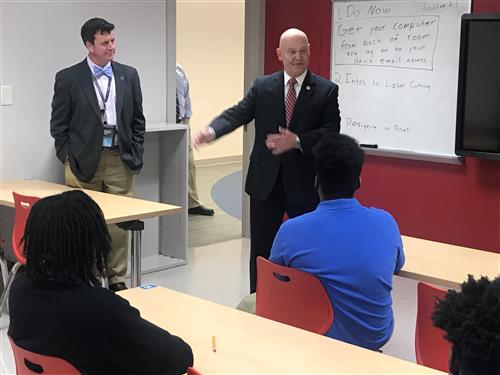 U.S. Maritime Administrator Mark H. Buzby, right, and PHASTAR founder Drew Ferguson meet with students at Davis Aerospace and Maritime High School.
CMSD NEWS BUREAU
2/6/2018
Graduates of CMSD's Davis Aerospace and Maritime High School will have a great opportunity to enter a dynamic sector of the workforce during a time of rapid change, U.S. Maritime Administrator Mark H. Buzby told some of the students Tuesday.
Then he added: "Don't waste it."
Buzby, a retired admiral who oversees the U.S. Merchant Marine, was in Cleveland to speak at the Great Lakes Waterways Conference. But first he toured Davis A&M, which opened this school year with ninth-graders.
The school, located downtown on Lakeside Avenue, teaches science, technology, engineering and mathematics, or STEM education, through the lens of the aerospace and maritime industries. Graduates will have a chance to obtain industry certification or go on to college and study for any field they choose.
Buzby said the introduction to maritime studies in high school is unusual and added that Davis graduates can bring "fresh minds" to new challenges.
For example, he expects advancement in 3-D printing to allow manufacturing on site. As a result, ships that carry raw materials could replace vessels designed to transport finished goods.
Members of the inaugural class at Davis asked Buzby about his education and military experience. He seized openings to offer advice.
"The skills you're learning to do, that you're getting exposed to, it's huge," he said. "I wish I had the opportunity you have."
Earlier in the day, nautically themed public schools -- some under way for years, others that like Davis are just getting their sea legs, came together at the CMSD school to share progress and strategies.
The Great Lakes K-12 Maritime Educators Meeting was held in conjunction with the waterways conference. Besides Davis, participants represented established schools in Toledo and Buffalo and schools to be launched in Erie, Pa., and Chicago.
Speakers cautioned that the schools' development will take time. Davis A&M has only about 50 ninth-graders, half of capacity, but Principal Tim Jones said registration for the incoming class is running ahead of last year's pace.
Davis is just one in a series of options that CMSD has developed under The Cleveland Plan, a customized blueprint for education reform in the city.
Jones said the curriculum, which is still evolving, includes or is expected to include courses such as marine science, aviation science, physics, boat design and building and computer science.
The school has a Fab Lab for manufacturing, paid for with a grant from the Office of Naval Research, and simulators that allow students to practice steering a ship into the San Francisco or New York harbors. Jones expects students to take to the water this year in an old Coast Guard boat.
Davis collects input from partners who so far include Cleveland's airport, a Cleveland-based Coast Guard district command, Kent State University's aviation program and PHASTAR, a nonprofit that pitched the aerospace and maritime concept to the District.
PHASTAR, which has an office and three full-time employees at Davis A&M, thought about opening a charter school, but planning coincided with CMSD's development of small, personalized school models with specialties such as information technology, digital arts and science and health.
"The District has really made it possible for these innovative programs to start," said PHASTAR founder Drew Ferguson, an airplane pilot and boat captain. "Our timing was pure luck. It fell right into where the District was."
Have a story idea for the CMSD News Bureau? Email it to newstips@clevelandmetroschools.org