Return to Headlines
International students tell their stories in original performance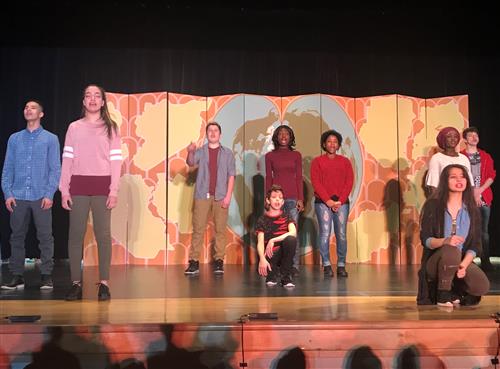 Students in the Global Teen Performance Project perform "Making Our Way" for their classmates.
CMSD NEWS BUREAU
3/14/2018
The stories of refugee and immigrant children in Cleveland are diverse, complex and often harrowing -- stories that, from the outside, can be difficult to understand.
So who better to illustrate the journey of leaving one's home and starting a new life in a strange country than the children who have done just that? That's the goal of "Making Our Way," an original performance by Cleveland Public Theatre and Global Cleveland, starring International Newcomers Academy students.
"Making Our Way" will be performed at 7 p.m. Friday, March 16 at CPT's James Levin Theatre.
The Global Teen Performance Project is an ensemble of INA high school students who worked with CPT co-directors Molly Andrews-Hinders and Adam Seeholzer to write, rehearse and stage the show. The story is based entirely on the experiences and cultures of INA students and captures the ups and downs of being a newcomer in the United States. Some of the content that inspired the plot was gathered during a series of workshops in December.
"The storyline tries to connect the dots between students who lost their parents before they even came to America, students who left their countries due to war, students who went from country to country to country and so many other experiences," Seeholzer said.
The performance, which the students debuted for their classmates on Wednesday, is an amalgamation of acting, singing and dancing. A young woman's world is turned upside down when she is forced to leave her home. Along her journey to safety, she collides with a family torn by war, a group of friends fleeing danger, a young man in search of a new life and his long-lost friend, and a mysterious woman who knows their path forward.
Some students welcome the performance as an opportunity to express themselves through the arts. For others, it was a fun way to make new friends and work on their English.
Intisar Musa, a refugee from Sudan, said she found comfort in telling her story, even the difficult part about losing her brothers. She is also excited to continue with theater, an activity she loved back in her home country.
For Siwita Ali Shah, a student from Afghanistan, being a member of the Global Teen Performance Project Ensemble taught her that she and her INA peers aren't so different from one another, despite coming from different backgrounds.
"When I started the show, I completely felt like I'm in my country," she said. "I felt like they're really like me. They all had hard times like me."
While "Making Our Way" has never been performed in its current form, CPT and Global Cleveland put together a similar performance in 2016 called "We Belong." When Global Cleveland President Joe Cimperman was serving as a Cleveland city councilman, he worked with CPT Executive Director Raymond Bobgan and CMSD CEO Eric Gordon to bring the idea to life.
For Cimperman, the ensemble is about providing a creative outlet for the international students while educating the community about the students' struggles and successes.
"There's a lot of hard stories told on that stage, so this is a way to help people understand what newcomers go through without making them want to run away, reject it or feel like they're being preached to," Cimperman said.
One doesn't have to be a refugee or immigrant to relate to the message of "Making Our Way," according to Andrews-Hinders. The performance touches on themes that transcend language and culture, like loss, grief, resilience and finding support among family and friends.
"It's not often that you get a group of individuals from all around the world telling one story," she said. "When you have people from many different countries who are speaking their truth and working as an ensemble, that is a truly special thing to witness."
Cleveland Public Theatre has stopped taking reservations for free tickets, but some tickets can still be obtained by emailing INA Principal Marisol Burgos at marisol.burgos@clevelandmetroschools.org
Have a story idea for the CMSD News Bureau? Email it to newstips@clevelandmetroschools.org.