Return to Headlines
Report shows more CMSD students prepared for college, fewer attending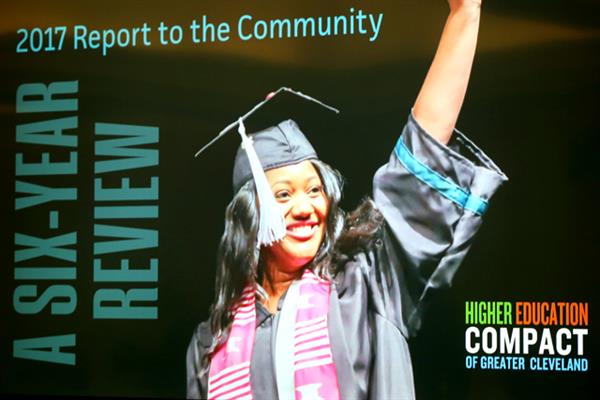 CMSD NEWS BUREAU
4/19/2018
The Higher Education Compact of Greater Cleveland's latest annual report on college readiness, access and persistence for CMSD students shows that more students are prepared for college but fewer are attending.
The District's graduation rate has jumped 16 percentage points in six years to 72 percent, exceeding the Compact's goal, and various measures show that more students are prepared for college. Despite this, the number who enroll within a year of their high school graduation has decreased by 16 percentage points over six years, due to obstacles that include cost, according to the report.
The Compact was launched by Mayor Frank Jackson in 2011 and now consists of nearly 70 education partners, community partners and funders that have the common goal of significantly increasing postsecondary educational attainment among CMSD students. The Compact set specific goals and began publishing outcomes in 2012.
The Compact convened a panel on Thursday at the City Club of Cleveland to discuss solutions for the persistent challenges holding back Cleveland students from college and to acknowledge the indicators that show the students' promise.
The panel consisted of CMSD Chief Executive Officer Eric Gordon, College Now of Greater Cleveland CEO Lee Friedman, Cuyahoga Community College Metropolitan Campus President Michael Schoop and Case Western Reserve University President Barbara Snyder. Margot Copeland, KeyBank's executive vice president and director of philanthropy and civic engagement, served as moderator.
Gordon broke down the District's improved high school graduation rate, noting that the rate for black students, who account for the largest portion of CMSD students, is 4.9 percentage points higher than the state average.
He also explained how the success of both the Compact's and the District's work to prepare students for college is showing up in the data.
"We're not simply graduating more students, we're graduating more students who are more ready for college," Gordon said.
For example, the report shows that the percentage of students graduating with a 3.0 average or higher increased from 23 percent in 2012 to 39 percent in 2017. Additionally, the percentage of high school graduates needing remediation in math or English in college dropped from 76 percent in 2012 to 65 percent in 2017.
Gordon attributes some of this success to the way the District has transformed high school education under The Cleveland Plan for education reform. Work has included opening new types of schools, increasing academic rigor and changing the focus from traditional learning to inquiry-based and project-based models.
Snyder said CWRU has made good on its commitment to support the goals of the Compact. A recent change in university policy reduced the amount of merit aid CWRU offers in order to make that money available to students with financial need. The policy calls for CWRU to meet the financial needs of every CMSD graduate who enrolls at the university. District graduates can even receive financial aid for expenses like rent and books.
"We want to serve students from all over the world, and we do that, but we have a special obligation, we think, to serve the students from this community because we derive so much from being part of this community," Snyder said.
Friedman, the College Now CEO, discussed some of the barriers to college for CMSD students. College Now has mentors in every CMSD high school to help students navigate the application process and provide guidance on things like scholarships and financial aid. Friedman cited a number of reasons why fewer students are attending college, but the biggest one, by far, is cost.
The report cites ways that this trend is being exacerbated. Not only is Ohio the fifth most expensive state in the country in which to attend college, but the state is also grappling with what the report calls an underinvestment in higher education and a decrease in need-based financial aid.
Friedman made it clear that the Compact isn't satisfied with some of the trends shown in the most recent report.
Far from ending on a down note, the panel discussion segued to the message of the morning's final speaker: Say Yes to Education CEO Mary Anne Schmitt-Carey. Say Yes works with communities to align academic and social services that help students stay on track to graduating from high school and prepare them for postsecondary studies. Chapters also provide scholarships that help students fill gaps in financing college tuition.
Cleveland is seeking approval to launch the nation's fourth chapter. A decision is expected in the coming months.
Schmitt-Carey said the Compact and other public-private partnerships across the city are proof that Cleveland has all the right pieces to achieve its goals for higher education.
"I'm fully confident in this city, that you're going to make it happen," she said.
Have a story idea for the CMSD News Bureau? Email it to newstips@clevelandmetroschools.org.