Return to Headlines
Aspiring Principals alumni lead fourth of CMSD schools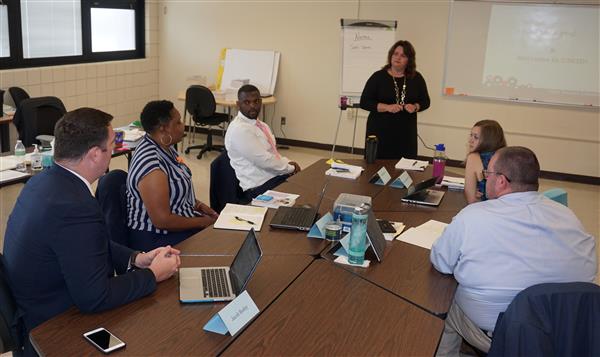 Aspiring Principals Director Heather Grant welcomed the 2018-19 cohort this week, which marked the beginning of a five-week "summer intensive."
CMSD NEWS BUREAU
7/6/2018
CMSD's principal development program is fulfilling its purpose of producing strong, capable school leaders to carry out the District's mission.
Alumni of the Aspiring Principals Academy, which is ringing in its fifth year, now account for 25 percent of CMSD principals. And for the first time in recent history, CMSD hired all of its principals for the 2018-19 school year from within the District -- due, in part, to the cadre of well-prepared leaders who have completed the academy.
"Aspiring Principals has turned out to be wildly more successful than we even envisioned," said CEO Eric Gordon. "And our original vision was very big."
Gordon welcomed the newest cohort this week at the start of the program's five-week "summer intensive," or boot camp. The 10 principal trainees were chosen from among 300 applicants, the largest pool yet. Half come from within the District -- teachers, assistant principals and curriculum and instruction specialists who want to take the next step in their careers and run a school. The other half left behind jobs in places like Denver and New York City to move to Cleveland and join the cohort.
After the summer intensive, the principal trainees will be assigned to a school where they will work under the mentorship of a principal for an 11-month residency and earn a salary of $75,000 plus benefits. The trainees then have the opportunity to interview for principal positions, though they are not guaranteed a job. The trainees must make a five-year service commitment to CMSD, including the residency year.
The success of Aspiring Principals has caught the attention of educational entities as far away as Australia. Clementina Humphrey, talent and succession lead for the Department of Education in South Australia, visited Cleveland this week to observe and learn more about the program, which was developed with help from the NYC Leadership Academy. Officials from Canton City School District are also coming to check it out.
Visitors from Cleveland State and John Carroll universities are also expected to observe the Aspiring Principals summer intensive to see how they can develop similar learning experiences for their leadership preparation programs.
Humphrey said the Department of Education in South Australia, which oversees 900 schools, wants to build on a one-day program that identifies prospective principals' strengths and gaps.
She sat in Friday as the Aspiring Principals went one by one through a simulation in which they dealt with parents and their concerns. The previous day she heard them reflect on their life's journeys, what inspired them to choose education and what they value. She said that activity demonstrated that everyone in a school -- both the adults and children they work with -- "has a story that leads them to where they are."
"There was a lot of vulnerability, which is really important for building trust and for being seen as someone who is relatable to others," Humphrey said. "That was a really interesting exercise."
Aspiring Principals Director Heather Grant said it's promising that people are taking note of this unique CMSD program, which was created to fulfill The Cleveland Plan's promise to create a pipeline of school leaders and provide resources to support their development.
"It shows that what we're doing here is working and that people are noticing the high quality of the leaders who come out of Aspiring Principals," Grant said.
The new principal trainees expressed a mixture of nervousness and excitement on the first day of the summer intensive.
For one trainee, LaChaunne Perry, Aspiring Principals marks a homecoming. Perry grew up on the East Side of Cleveland and graduated from John Hay High School. She moved to Virginia after receiving a scholarship to attend Virginia Union University and has been working there ever since. But she always dreamed of returning to Cleveland to lead a public school.
"This program attracted me because, even though I have a master's degree in educational leadership, I never felt prepared to actually go out and lead a school," Perry said. "With the residency and cohort of people working with me, this seems like it's going to give me that extra support."
Perry's career has been inspired, in part, by James Hobbs, her principal at Mary McLeod Bethune School. Hobbs and Perry stay in touch, and he supported her when she expressed interest in applying for Aspiring Principals.
"He created a school environment specifically for us. I remember that school being the best place on Earth because of his leadership," Perry said. "I'm excited to see what I can do -- if I can be like Mr. Hobbs from Mary McLeod Bethune School."
Have a story idea for the CMSD News Bureau? Email it to newstips@clevelandmetroschools.org.