Return to Headlines
CMSD report card shows increased test scores, closing achievement gaps, another record grad rate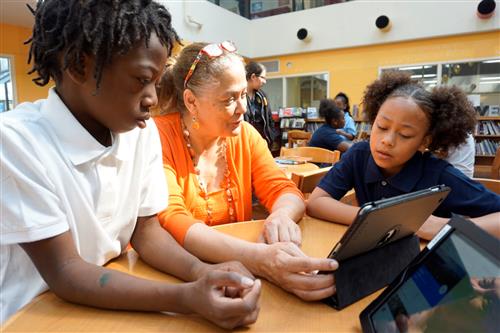 CMSD NEWS BUREAU
9/13/2018
CMSD's latest state report card is out, and it shows continued improvement in a number of key areas.
Among several highlights, this year's report card shows the District's graduation rate reached 74.6 percent -- yet another record high -- and students in racial, economic and other subgroups met or exceeded goals for closing achievement gaps or at least made gains. The District's performance index, a composite of all test scores, rose from an F to a D.
CEO Eric Gordon said that while CMSD's overall grade is an F, the District's continuous improvement under The Cleveland Plan is evident in the data this year.
"We are far from where we want to be, but these results provide more evidence that our reforms are working and that we are headed in the right direction," he said.
The report card also shows:
CMSD made gains from last year on 19 of 21 report card indicators.
Math and English test scores improved in almost every tested grade. Overall, test scores increased an average of 6.7 percent from last year.
The K-3 literacy score remained essentially flat, but because of a change in the cutoff score, the grade fell from a C to a D. The percentage of third-graders meeting Ohio's Third Grade Guarantee, however, increased by 4.3 points to 83.9 percent.
CMSD's four-year graduation rate grew another 2.5 percentage points this year. The rate has now climbed more than 22 points since 2011, annually setting record highs for the District for seven straight years under The Cleveland Plan.
The five-year graduation rate rose 3.5 points to 79.6 percent. Had 11 more students in that category graduated, CMSD would have earned a D on that measure.
CMSD has also increased graduation rates every year for African-American and Hispanic students. The rates now stand at 75.2 percent for African-American students and 74.3 percent for Hispanic students.
"The truest measure of performance is how well a District fares in graduating students," said Gordon. "We continue to make strides in that area."
Success in closing achievement gaps is another critical gauge of progress in Ohio school districts, and here, too, CMSD demonstrated progress. The District met or exceeded goals or at least made gains in subgroups determined not only by race, but also by poverty, English learner status and disabilities.
CMSD's improved grade in the state's performance index is significant, Gordon said, because it marks the first time CMSD has earned better than an F since the state adopted new assessments three years ago.
The report card also shows improved grades for a growing number of schools throughout the District.
About a fourth of CMSD's schools received an overall grade of C or better. Forty-three of 104 schools received at least a C for closing achievement gaps, and 62 schools made gains in their performance indexes.
Nine high schools had graduation rates above 90 percent. The Cleveland School of Architecture and Design and Cleveland Early College High School both had rates of 100 percent.