Return to Headlines
Students use their say to help Say Yes bid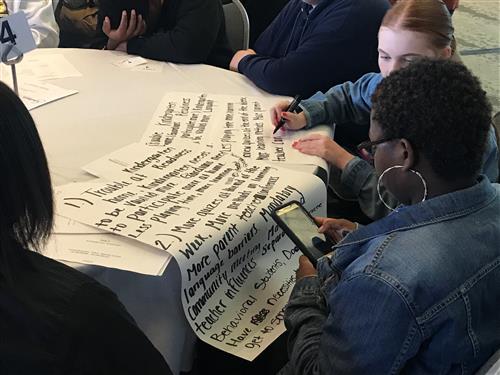 Members of the CEO's Student Advisory Committee analyze student data.
CMSD NEWS BUREAU
10/19/2018
Students whose voice is guaranteed by state law have used it to aid the city's bid to become an affiliate of Say Yes to Education.
CEO Eric Gordon's Student Advisory Committee -- 400-plus high school students from across the District -- gathered Friday at Windows on the River for the first of four meetings this school year. As is his custom, Gordon reminded the students that the state law that ushered in The Cleveland Plan, a customized blueprint for education reform in the city, grants them a say in their schooling.
Small groups reviewed data that will guide the city's push to become the fourth U.S. affiliate of the nonprofit Say Yes to Education. Say Yes helps communities align services to keep students on track to graduation. The communities also provide scholarships for tuition to college or other postsecondary education.
The data included the percentages of students struggling to become kindergarten ready, read at grade level by the end of third grade and achieve proficiency in English language arts and math by the end of fifth grade. Results of the groups' discussions will be compiled later.
"We know what is happening; we want you to tell us why," Gordon said before the students got down to work. "What are the challenges our kids are facing and what can we do about it?"
Brianna, a junior at the Cleveland School of Architecture and Design, and tablemates studied the fifth-grade numbers. She said they felt that peers might be leading students off track or that busy parents and teachers are not providing enough motivation.
Gene Chasin, Say Yes to Education's chief operating officer, attended the meeting and told the students that Cleveland is on a path to become the fourth chapter of Say Yes, joining Syracuse and Buffalo, N.Y., and Guilford County, N.C. A decision is expected in the coming months.
Have a story idea for the CMSD News Bureau? Email it to newstips@clevelandmetroschools.org.