Return to Headlines
Say Yes student presses on with college studies
CMSD NEWS BUREAU
4/24/2020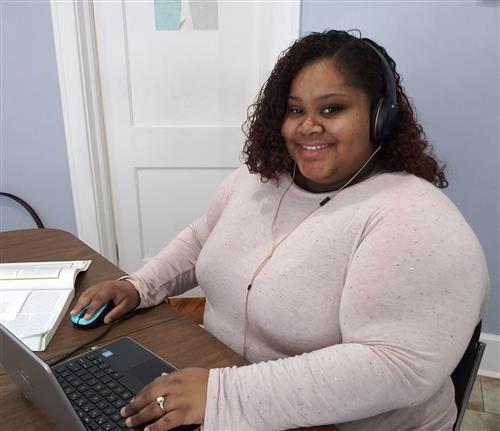 A lot of 2019 CMSD graduates went off to college or career training last fall on newly available Say Yes to Education scholarships. For many, it was the opportunity of a lifetime.
Then a global pandemic, also thought to be a once-in-a-lifetime event, erupted and turned their first year with the scholarships upside down.
Like the majority of the Say Yes recipients, Leean Andino stayed in Northeast Ohio and was among those who selected Cleveland State University. The campus has been closed since spring break, and her classes have moved online. It was an adjustment, but she is working hard to keep her grades at their high level.
"It is important for me to maintain and raise my GPA because I would like to be in the best academic standing possible when the time comes to apply for graduate school." said Leean, who entered the second semester with a 3.13 average. "It has been more of a challenge, but I just need to push through."
Leean, a graduate of New Tech West High School, was familiar with college, having spent two years at Tri-C in the High Tech Academy dual-enrollment program and earning an associate's degree. She had taken some of her college courses online and expected a smooth transition.
But now everything was virtual, and instead of working at her own pace, she was up mornings for a video call.
Leean did not like being on screen, so she turned off the video and listened. Students could use chat to communicate with each other, but that felt like texting. The joy of her college adventure turned to sadness and worry.
"It doesn't feel like being at school or doing schoolwork," Leean said. "It's not easy, but I have been able to keep up.
"I miss the ability to physically interact with my classmates and teacher," she continued. "I also miss being able to go to certain areas of the school, sitting down and being able to study and do work with no distractions. At home, it's way too easy to be distracted and unmotivated. I feel like I have to work even harder to get into a school mindset."
Leean, her parents and her sister follow guidelines for isolating themselves, particularly because her sister is disabled and her mother has a weakened immune system. But they miss the company of friends and relatives.
She keeps in touch with Ann Gynn, the mentor that College Now Greater Cleveland assigned to her as part of the Say Yes program, and talks to her at least twice a month. Gynn, a marketing consultant, has been very helpful, Leean said.
Say Yes Cleveland scholarships pay up to the full value of tuition, minus federal and state aid, for CMSD graduates who attend any public college, university and Pell-eligible training program in Ohio and more than 100 private colleges and universities across the country.
Leean rejoiced when Say Yes founder George Weiss and community leaders announced the scholarships in January 2019. Though she had grants, a daunting gap remained.
"Say Yes is the reason I am able to attend college," she said.
Leean, who is studying psychology, intends to earn a master's degree and work someday as a child psychologist, she hopes with CMSD. She said she wants to help schoolchildren cope with difficulties caused by hormones, transition, school stress and other factors.
"I can't wait for the day we go back to school, because I will be able to do my work in peace," she said. "I love my family to death, but it's nice having school, because in a sense it is my space where I can do me and do my work distraction free."
This year's CMSD seniors can qualify to receive diplomas under guidelines that can be found at clevelandmetroschools.org/coronavirus. Say Yes Cleveland, CMSD and College Now Greater Cleveland are encouraging them to stay focused on the future by applying to colleges for admission, submitting the Free Application for Federal Student Aid, or FAFSA, and applying for the Say Yes scholarship.
For more information on the scholarship, go to sayyescleveland.org